Photos: GATECREEPER (Somerville, MA – 2019/11/13)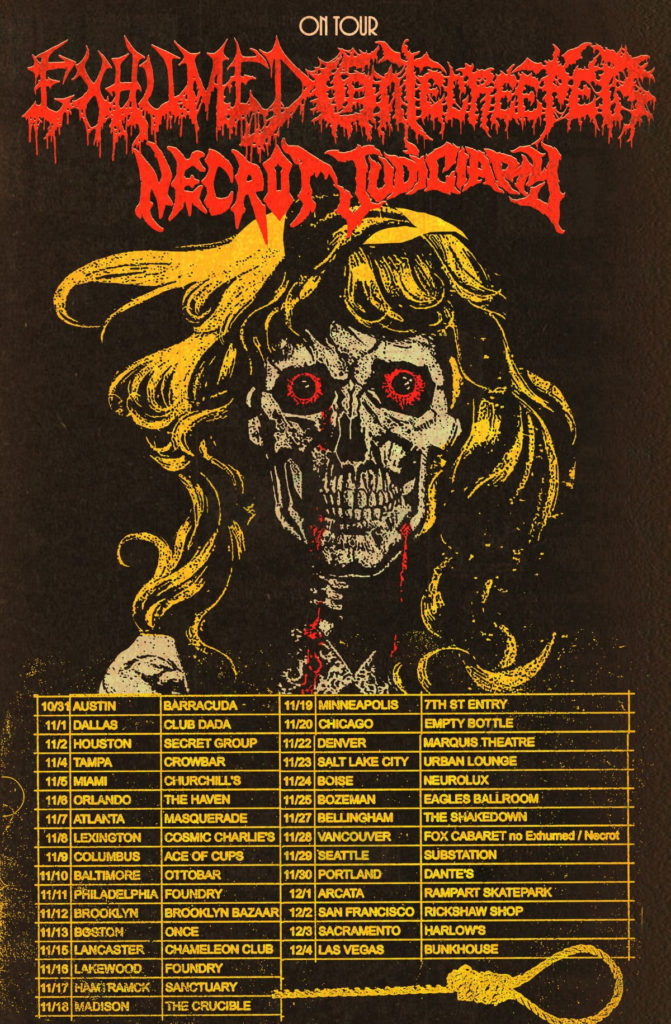 A furious mix of snarling guitars and driving, rhythmic pummeling takes death metal from its 80's Floridian roots and 90's Swedish expansion straight into the here and now.
Arizona's death metal legion GATECREEPER made a stop on their co-headlining US tour with Exhumed in Somerville, Massachusetts, a city right outside of Boston. Photographs from GATECREEPER's set are below courtesy of Bananamasher.
GATECREEPER's highly anticipated sophomore album, Deserted is out now on Relapse Records. Deserted was recorded at Homewrecker Studios in Tucson, where GATECREEPER co-produced the album with engineer Ryan Bram. Converge guitarist Kurt Ballou handled the mix at Godcity in Salem, MA, and Brad Boatright mastered the album at Audiosiege in Portland, OR. Deserted's hallucinatory cover art was created by Brad Moore.
GATECREEPER was formed in September of 2013 with members originating from both Tucson and Phoenix, Arizona. Bonded together over a mutual love of old-school death metal, GATECREEPER set out to write classic yet memorable songs for a new generation. The band recorded and released a self-titled 4-song EP digitally in April of 2014 then put out a few splits with the likes of Take Over and Destroy and Young and in the Way before their debut album, Sonoran Depravation, was released in 2016 by Relapse.