Photos: SLAYER (Springfield, MA – 2019/11/08)
---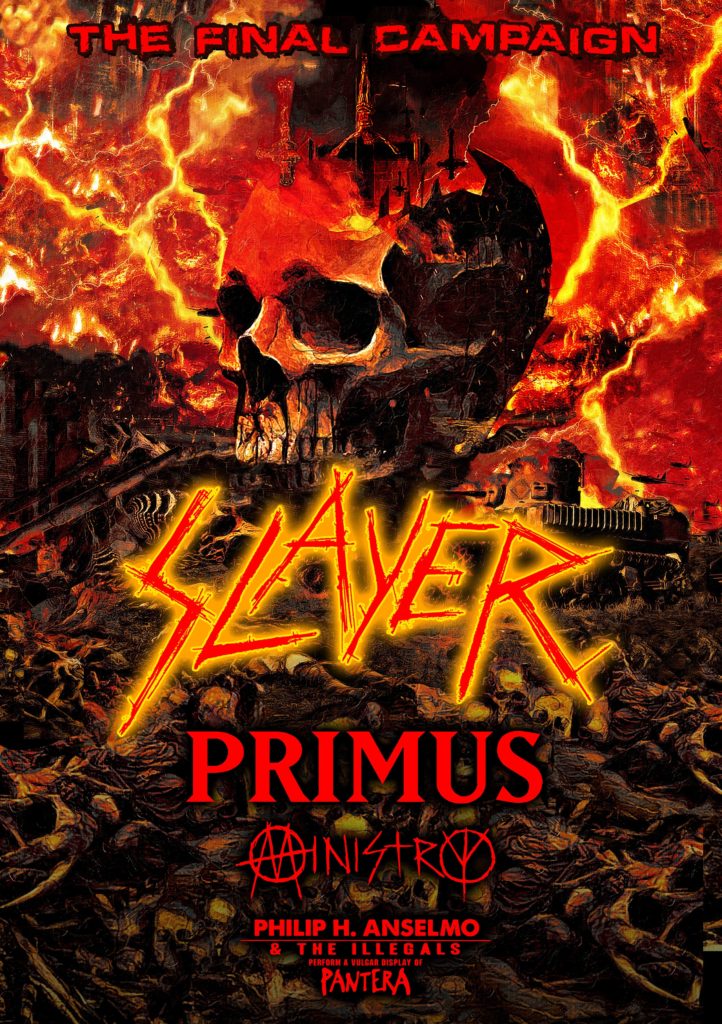 One of the biggest bands in metal are bidding farewell after 37 years of rockin' and rollin'. The mighty thrash metal legends SLAYER have announced The Final Campaign, the lest leg of their farewell tour.
This time around SLAYER will be accompanied by Primus, Ministry, and Philip H. Anselmo & The Illegals (performing a special vulgar display of Pantera set). Photos from the November 8th date at the Mass Mutual Center in Springfield, MA. are below.
Three bus drivers, four truck drivers, and a crew of 32 have traveled all over the world to set the stage for this farewell. At most shows, SLAYER's pyro expert set off 160 pounds of propane and 10 liters of 99% isopropyl alcohol. The world tour in total will take 18 months, consisting of seven legs spanning 30 countries across 140 shows.
Maintaining the band's ethos of "play as many places as possible to make it easier for everyone to see the band one last time," Tom Araya (bass and vocals), Kerry King (guitars), Gary Holt (guitars, Exodus), and Paul Bostaph (drums ) will set off on The Final Campaign.
To celebrate, the band is also releasing "Slayer: The Repentless Killogy" motion picture and companion LP/CD, The Repentless Killogy, Live At The Forum in Inglewood, CA coming to theaters worldwide for a one-night event on November 6 where it will be screened in over 1500 theaters. The narrative short film is paired with Slayer's entire performance of its August 5, 2017 concert at the Los Angeles Forum and will be available digitally and on Blu-ray, and the soundtrack from that concert will be released as both a two-disc vinyl and two CD packages, starting November 8.
All hail Slayer!