VILE – Original Works Celebrating the Cannibal Corpse Album
---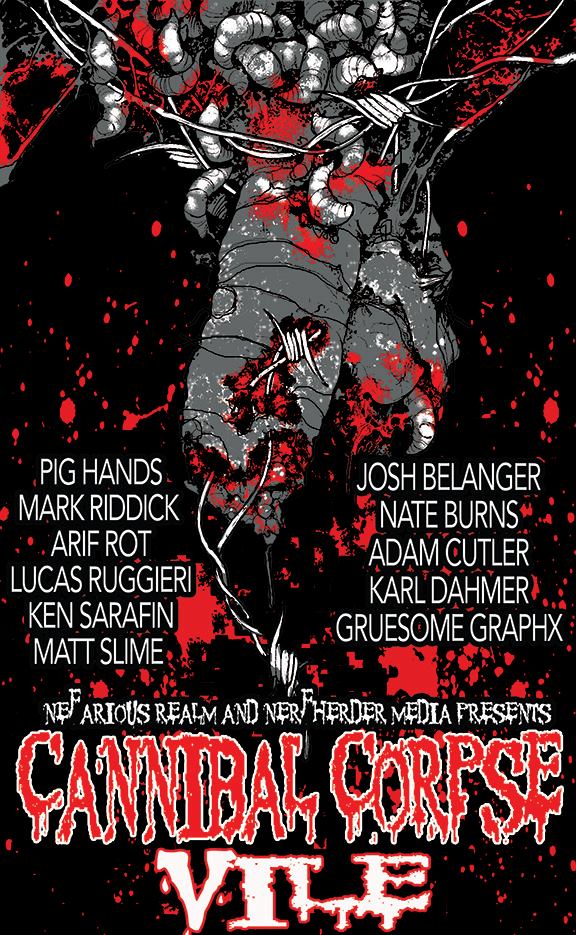 On May 20th, the classic Cannibal Corpse album Vile will turn 20 years old. We thought it would be pretty cool to have several artists and illustrators create an original work with only the song title and lyrics as the sole concept. Artists from around the world were happy to oblige and come together to truly make this exhibit something special. Opening night, as luck would have it, is May 20th at Eridanos in Cambridge, MA. Full details on the event can be found below. Artists with their respected song are:
1. "Devoured by Vermin" – Adam Cutler
2. "Mummified in Barbed Wire" – Mark Riddick
3. "Perverse Suffering" – Gruesome Graphx
4. "Disfigured" – Arif Rot
5. "Bloodlands" – Lucas Ruggieri
6. "Puncture Wound Massacre" – Pig Hands
7. "Relentless Beating" – Nate Burns
8. "Absolute Hatred" – Ken Sarafin
9. "Eaten from Inside" – Karl Dahmer
10. "Orgasm Through Torture" – Matt Slime
11. "Monolith" – Josh Belanger
Cannibal Corpse is now going back in time to commemorate some classic titles: Butchered At Birth, Eaten Back To Life, The Bleeding, Vile, and Tomb Of The Mutilated. As part of the Metal Blade Classics series, these albums are now available on vinyl in limited quantities. An exclusive poster is also included with each LP. Metal Blade also has Vileon CD, CD/DVD, picture disc, and other Cannibal Corpse items.
[embedyt]https://www.youtube.com/watch?v=D8gGBpszvcE[/embedyt]