Stream: 'The Uncanny Valley' from Darkwave Maestro PERTURBATOR
---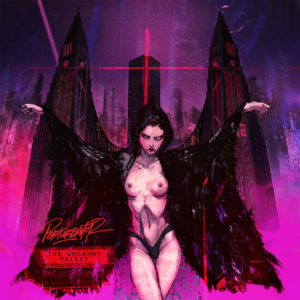 PERTURBATOR is the pseudonym of James Kent, an electronic/synthwave musician from Paris, France. He has a background as a guitar player in several black metal bands. Since 2012 he has produced electronic music inspired by cyberpunk culture and with inspiration from movies like Akira, Ghost In The Shell, The Running Man. He uses a variety of software synths in his productions, such as the emulators of old vintage synths like the OB-X or the CS-80.
PERTURBATOR's highly anticipated new album, The Uncanny Valley along with its companion EP, The Uncanny Valley – Bonus is finally available for streaming and purchase. Physically, The Uncanny Valley – Bonus EP is only available as part of the special limited edition 3xLP and 2xCD sets.
The Uncanny Valley is out worldwide via Blood Music on May 6th. It will be released on vinyl, CD and digitally. A special edition release features 16 extra drawings, compiling a full graphic novel for the album; as well as an entire 7-track EP of bonus material – featuring three new tracks, two instrumental versions of tracks that originally contain vocals, one 8-bit version of a previously-released track, and an unreleased demo that didn't make the final cut for The Uncanny Valley.
The album was written, produced, and arranged by Kent alone over the course of two years in a dark apartment in Paris, lit only by the glowing computer screen.
Pressing Information:
35 – Black tape
75 – Pink tape
75 – Violet tape
250 – Pink 2xLP
250 – Purple 2xLP
n/a – Black 2xLP
2000 – 2xCD
n/a – CD
For The Uncanny Valley, Kent pushed himself to the outer limits of his self-invented, neon-soaked universe. The album continues in the same story thread as the artist's previous works, taking place 24 years after the finale of Dangerous Days. Focus shifts from the world of Nocturne City into the future alleys of Tokyo, after the finale of the War Against Machines.
For the storyline, the listener is the central character – in each PERTURBATOR record, every story is your story. The main character is the motorcycle helmet-clad vigilante known as the Night Driving Avenger. His narrative intertwines with a female android/assassin, fighting for liberty and equality in a cynical world that attempts to eradicate all traces of the machines. The duo attempt to dismantle an underground faction who spreads their message of hate through a false religion – its recruiting station is the black church that hovers over the city.
The uncanny valley is a phenomenon in robotics engineering whereby a humanoid robot bearing a near-identical [but not perfect] resemblance to a human causes a response of revulsion among the observer. The "valley" refers to a dip in the graph of comfort level as humanoid subjects move toward a healthy, natural human likeness.