Music Video: GALACTIC EMPIRE Return with "The Imperial March"
---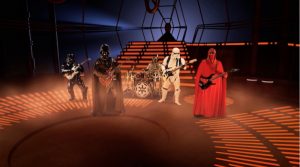 It is a dark time for our generation. The evil GALACTIC EMPIRE, obsessed with crushing all with their pure sonic annihilation, has dispatched another music video into your social media and audio playlists.
Introducing "The Imperial March." Once again, the dreaded Imperial band has faithfully recreated the theme music originally written by John Williams.
Along with the release of this new music video, the band has launched a Kickstarter Campaign to promote the release of their debut full length album on vinyl and CD, and fund plans for touring. Both are to come later this year. You can join their conquest to rule the galaxy by contributing to their cause here. Commented Dark Vader:
"We are most grateful for your support and we hope you will assist us in spreading the word about this campaign of darkness. Join us and together, we can rule the Galaxy!"
Galactic Empire is a heavy metal band comprised of the most sinister villains in the universe. Last year they successfully infiltrated Earth's "internet" with their first music video, for Star Wars' "Main Theme", which has since accumulated over 8 million views.
[embedyt]https://www.youtube.com/watch?v=nohQReM7BpI[/embedyt]
[embedyt]https://www.youtube.com/watch?v=pPV9NNvtL20[/embedyt]