4'o'Clock Slam: PARTY CANNON
---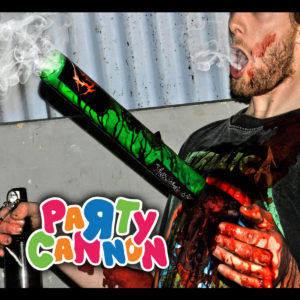 4'o'Clock Slam is a reoccurring segment every Wednesday at 4:00pm (EST) where we offer the best in slam, brutal death metal, goregrind, and other acquired tastes at the extremes of the death metal spectrum.
Scottish slamming quintet PARTY CANNON released their debut album Bong Hit Hospitalisation a year ago this month via Gore House Productions. Following the same footsteps as their well-received Partied in Half EP, these party-slammers bestow the next level of extreme comedic brutality; "widdly riffs, mega slams, terrible samples and biscuit tin snare". So get ready to open up a beer, smoke a bowl, and party your brains out to Bong Hit Hospitalisation.
Featuring a new "out of the ordinary" album cover, Bong Hit Hospitalisation was produced by Rob Hobson at Silent City Studios (The Afternoon Gentlemen, Kastrated, Introrectalgestation, Repugnance).
Word has it that PARTY CANNON are currently working on new tasty jams to keep you partying.