40 WATT SUN Return with 'Wider than the Sky'
---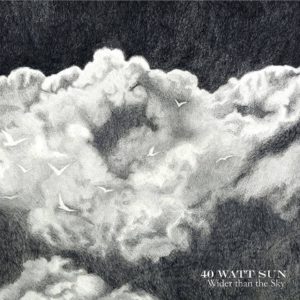 40 WATT SUN have revealed the details of their long-awaited second album. Wider than the Sky is the follow-up to their 2011 debut, The Inside Room (streaming below).
Wider than the Sky has been an album fraught with delays and difficulties. In a move intended to regain autonomy over their own recordings and future plans as a band, 40 WATT SUN have elected to self-release the album via their own label, Radiance Records.
Scheduled for release on October 14th 2016, and once again self-produced by the band, Wider than the Sky features six new songs and, in the spirit of the band's previous music, is imbued with soaring melodies yet sparse, minimalist arrangements.
40 WATT SUN's music takes the listener through many different spaces, the songwriting both powerful and intimate. There is a subtlety at play, defined by delicate guitar lines and introspective lyrical themes, underpinned by thoughtful flourishes of bass and held by the ebb and flow of drums. Eschewing the need for conventional structure, the songs wash over the listener in waves of melody, the down-tempo nature of the music sparse yet dense, dynamic without bombast, plaintive but strong. Carefully orchestrated instrumentation, coupled with unique and poignant vocals, ensure 40 WATT SUN's music will stay with you long after the songs have finished.
Available on CD, gatefold double vinyl, and digital download, pre-orders of Wider than the Sky are available now ahead of the scheduled release date. The vinyl LP will be released through Svart Records in Europe and available via both Svart and the 40 WATT SUN website.
[embedyt] http://www.youtube.com/watch?v=5ekZk_xhwuI[/embedyt]
Wider than the Sky track listing:
1. Stages
2. Beyond You
3. Another Room
4. Pictures
5. Craven Road
6. Marazion