Stream: RINGWORM / EARLY GRAVES Split 7″
---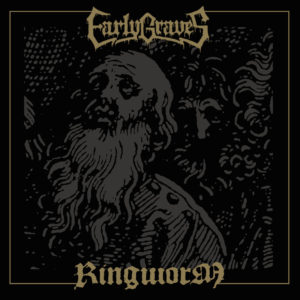 Creator-Destructor Records has released a brand new split 7″ from RINGWORM and EARLY GRAVES! The release features one new original from each band, and both bands even chose one cover song each to decimate! RINGWORM covers Motorhead's "Iron Fist," while EARLY GRAVES covers Celtic Frost's "Into the Crypts of Rays." Trust us when we say that each cover completely destroys, but to hear those tracks you'll have to preorder the 7″ for yourself!
Cleveland's legendary kings of metallic hardcore RINGWORM released their most recent full-length and Relapse Records debut in 2014 with Hammer Of The Witch. RINGWORM was spawned in 1991 from the metal scene in Cleveland, Ohio, and released The Promise (1993) on Incision Records, immediately finding their place among hardcore metal heavyweights like Terror and Earth Crisis. Despite early success, the members of RINGWORM decided to pursue personal ventures. Human Furnace concentrated his focus on tattooing and his artwork, while other members joined with hardcore legends Integrity. Nearly a decade later, RINGWORM emerged from the shadows with their critically acclaimed Victory Records debut, Birth Is Pain (2001), followed by Justice Replaced By Revenge (2005). Between extensive touring and personal ventures, RINGWORM managed to release two more searing LPs, The Venomous Grand Design (2007) and Scars (2011), through Victory.
EARLY GRAVES formed in San Francisco, CA in early 2008 and have since released three full lengths, 2008's We: The Guillotine and 2010's Goner on Metal Blade Records' imprint, Iron Clad Recordings. Their latest came from No Sleep Records in 2012 with Red Horse. The band's sound has been described as a mixture of old school Swedish death metal and American hardcore punk and have drawn comparisons to Napalm Death, Carcass, Tragedy and Testament among others.