Stream: Pig Destroyer Long Lost Track & Collection Album Reissue
---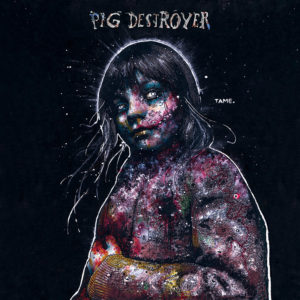 Virginia grind outfit Pig Destroyer announce the deluxe reissue of their Painter of Dead Girls collection album, fully remastered and expanded with additional audio, additional artwork, archival photos and long-lost lyrics. Showcasing the band at their most primal (as a then-bassless power trio) these recordings capture the varied sounds of an envelope-pushing, borderline feral outfit.
With a sonically massive rendering, "Delusional Supremacy 2K" was previously found only on an obscure early-00's sampler, unavailable widespread until now. This blistering Pig Destroyer deep cut is finally given proper attention.
Finally available again on vinyl after over a decade of unavailability, the first half of this collection was initially tracked as an equipment burn-in test during the millineal year leading up to Pig Destroyer self-recording their seminal Prowler In The Yard full-length. The secondary bulk of the material initially yielded their most sonically powerful recordings at the time, put to tape in the late 1990's at Oblivion Studios.
Rounding out this expanded edition of Painter of Dead Girls is a raw mosh basement live recording of "Rejection Fetish", along with a truly bludgeoning cover of Helmet's "In The Meantime" complimenting the existing Dwarves and Stooges covers. With 19 blistering tracks in total all meticulously remastered by James Plotkin, this key piece of the Pig Destroyer catalog looks and sounds better than ever.
The original album art by Chris Taylor has been extended into a beautiful gatefold jacket with added metallic silver highlights. Newly created extra artwork adorns the interior, along with recently unearthed lyrics to all the Pig Destroyer songs found on Painter of Dead Girls, printed in full for the first time ever. A double-sided photo collage innersleeve houses the vinyl, containing classic photos from the era surrounding these recordings. The digital download versions includes a PDF booklet of these elements.
Tracks 1-8 recorded on one fine Saturday in early 2000
Tracks 9-17 recorded at Oblivion Studios in May 1999
Track 18 recorded at Visceral Sound in 2003
Track 19 recorded live on minidisc in the Taylor's basement in November 2001