Stream: Philly Shoegazers NOTHING New LP, 'Tired Of Tomorrow'
---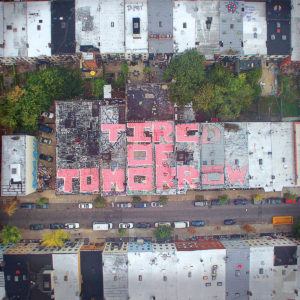 The wait is finally over – Tired Of Tomorrow, the new full-length from Philadelphia alt rock/shoegaze phenoms NOTHING, is now available via Relapse Records, stream it in full below.
Tired Of Tomorrow, their beautifully profound follow-up to 2014's widely-acclaimed Guilty Of Everything. Recorded over the course of a month at Studio 4 with Will Yip (Circa Survive, Title Fight), Tired Of Tomorrow is a modern, nihilistic take on the triumphant fuzzed-out guitar rock of the 90's, replete with huge hooks and brooding melodies. Much like the events it's based on, the album displays an unparalleled balance of opposites and contradictions, rife with sweet-and-sour themes, downcast grooves, infectious choruses, and blissfully expansive washes of sound. With Tired Of Tomorrow, NOTHING have worked the deepest influences of their youth and maturation into a confident, memorable album that is sure to soothe old wounds while simultaneously opening up new ones.
Additionally, NOTHING have partnered with 15+ tattoo shops (of which includes our friends at Eridanos in Cambridge, MA where our VILE exhibit is taking place) across the globe to offer fans custom Tired of Tomorrow tattoos this Friday the 13th in celebration of the new album's release! The tattoos, designed by Eric Kenney, will not only bring track titles from the band's new LP to life but will also incorporate traditional Friday the 13th themes. A complete listing of participating shops is available at this location.
This summer NOTHING are set to embark on The "Tired of Tourism" tour, which will see the band hitting cities across North America with Relapse labelmates Wrong and California's Culture Abuse. The trek also includes festival appearances at Lollapalooza, Governor's Ball, Spillover, Shaky Knees, Levitation, Forecastle, and more. A full list of dates are below the trailer for the band's forthcoming documentary.
[embedyt]https://www.youtube.com/watch?v=Ug3S9T_0Ff8[/embedyt]
NOTHING Tour Dates:
Apr 16 Brooklyn, NY Rough Trade RSD
May 13 London, UK Rough Trade East acoustic in-store performance
May 13 London, UK Moth Club
May 15 Atlanta, GA Shaky Knees Music Fest
Jun 4 New York, NY Governors Ball Music Fest^
Jun 5 Boston, MA Sinclair*
Jun 7 Toronto, ON Lee's*
Jun 8 Detroit, MI El Club*
Jun 9 Cleveland, OH Now That's Class*
Jun 10 Chicago, IL Sub T*
Jun 11 Minneapolis, MN Triple Rock*
Jun 12 Omaha, NE Slowdown*
Jun 14 Denver, CO Marquis*
Jun 15 Salt Lake City, UT Kilby Court*
Jun 16 Boise, ID Neurolux*
Jun 17 Seattle, WA Tractor Tavern*
Jun 18 Vancouver, BC Levitation Fest^
Jun 19 Portland, OR Mississippi Studios*
Jun 21 San Francisco, CA Slims*
Jun 22 San Diego, CA Soda Bar*
Jun 23 Los Angeles, CA The Echo*
Jun 24 Phoenix, AZ Yucca*
Jun 25 Albuquerque, NM Sister Bar*
Jun 27 McAllen, TX Yerba Cultura*
Jun 28 Austin, TX Sidewinder Out*
Jun 29 Dallas, TX Red Blood Club*
Jul 1 Atlanta, GA Masquerade Purgatory*
Jul 2 Tampa, FL Local 662*
Jul 3 Orlando, FL Backbooth*
Jul 5 Chapel Hill, NC Motorco**
Jul 6 Richmond, VA Strange Matter**
Jul 7 Washington, DC Rock and Roll Hotel**
Jul 8 Philadelphia, PA Union Transfer**
Jul 9 New York, NY Bowery**
*= with Wrong and Culture Abuse
**= with Culture Abuse and TBD
^= Nothing only
July 15 – 17 Louisville, KY Forecastle Festival
Jul 29 – 31 Chicago, IL Lollapalooza Music Festival
Aug 2 Grand Rapids, MI Pyramid Scheme
Aug 3 London, ON Rumrunners
Aug 4 Ottawa, ON Ritual
Aug 5 Montreal, QC Sala Rosa
Aug 6 Rochester, NY Bugjar
Aug 7 Pittsburgh, PA Cattivo