VILE Showcase: Adam Cutler
---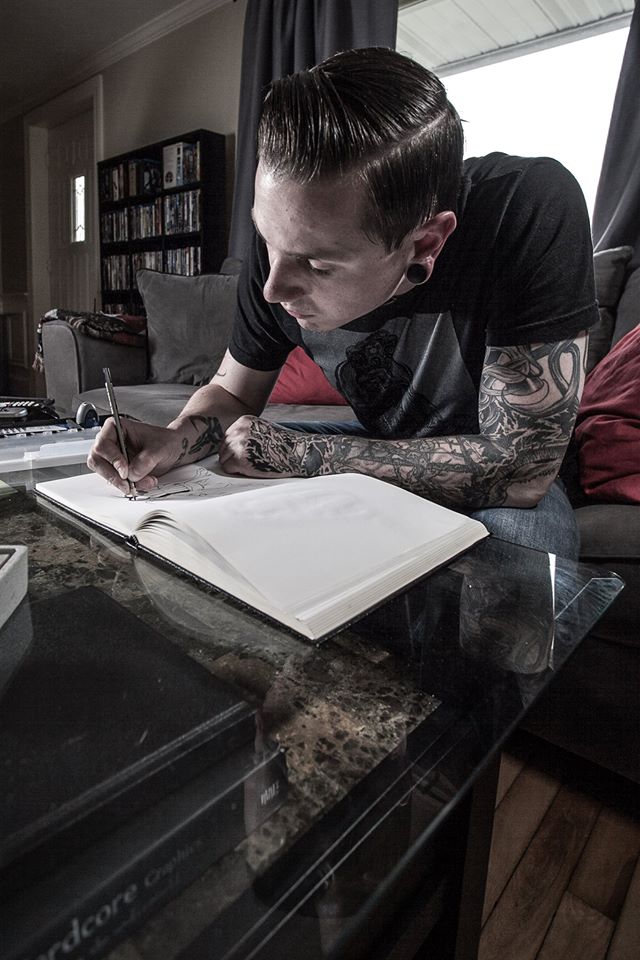 On May 20th, the classic Cannibal Corpse album Vile will turn 20 years old. We thought it would be pretty cool to have several artists and illustrators create an original work with only the song title and lyrics as the sole concept. Artists from around the world were happy to oblige and come together to truly make this exhibit something special. Leading up to the exhibit, we will be speaking to several of the artists and giving you all a further glimpse of who there are and their work.
Opening night, as luck would have it, is May 20th at Eridanos in Cambridge, MA and run through June 11th. The Facebook event page can be found here, while full details of the VILE Exhibit can be found here
Adam Cutler operates under Motionless Visions, a multidisciplinary studio operated by the Maine-born commercial artist, illustrator, and designer with over a decade of experience working for bands of every level and genre.
His passion for art began at a young age with aspirations to work in the comic book industry. As his interest moved towards playing guitar in a band, so his artistic path shifted in the direction of graphic arts tied to the music business. This sparked a newfound love for art in a commercial sense, and ultimately inspired him to seek an education in design. Before even completing his degree at the New England Institute of Art in 2007, he found himself working with a wide breadth of clients that has grown to include notable and diverse names from Bob Seger to Suicide Silence.
Adam currently works out of his home studio in West Boylston, Massachusetts. He remains an avid fan of music and comics, trains in American Jiu Jitsu, works as a UI/UX designer for CoachUp, and has a weekly illustration blog at www.mondaymoshmonsters.com.
Some of his work has been published in the book Metal & Hardcore Graphics: Extreme Artworks from the Underworld (Loft Publications) and on the iTunes app Pandemonium: An Extreme Metal Art Gallery (Republic), and has appeared in galleries including the Davis Art Gallery in Worcester, MA, Art Machine Productions in Philadelphia, PA, and the New England Institute of Art Student and Alumni Gallery in Brookline, MA.