Photos: CANNIBAL CORPSE, MORBID ANGEL, NECROT and BLOOD INCANTATION (Buffalo, NY – 2019/03/06)
---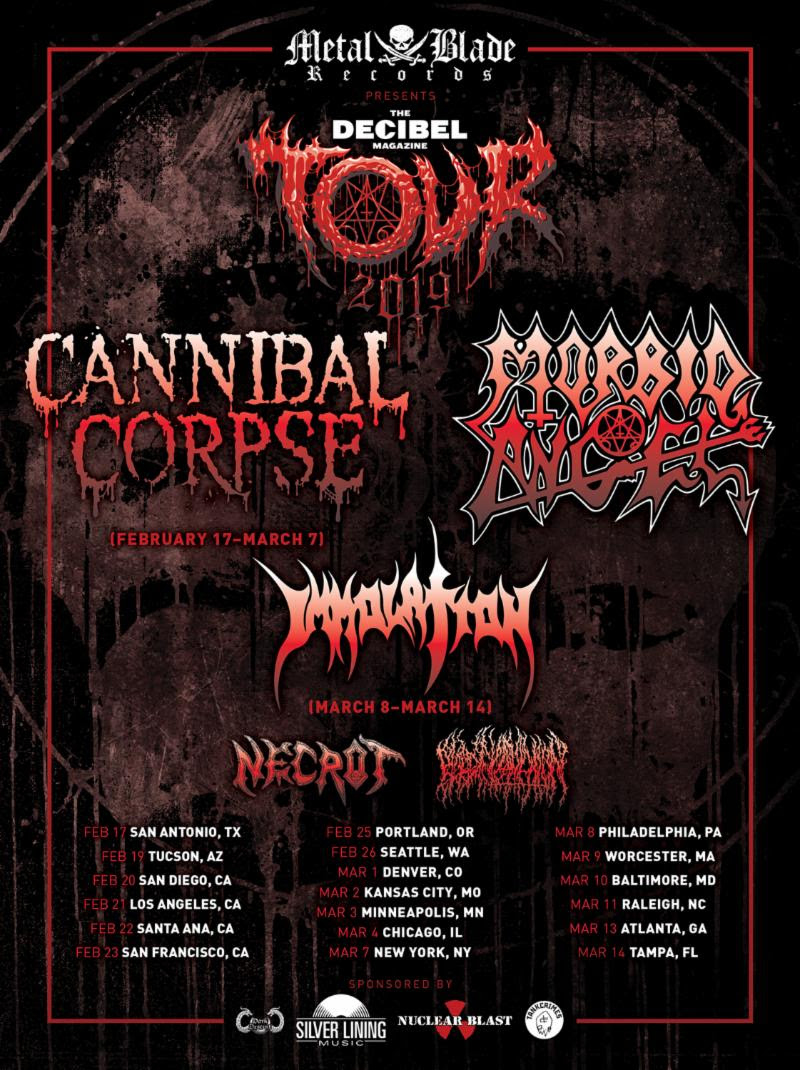 Since its launch in 2012, the annual Decibel Magazine Tour's ambitious curation has unified artists from around the extreme universe who would otherwise never have the opportunity to tour together. The lineup for the 2019 Decibel Magazine Tour once again breaks new ground, as legendary death metallers CANNIBAL CORPSE and Morbid Angel join forces for the first time ever in America to co-headline the winter tour. Rising Bay Area brutalizers Necrot and space-obsessed Denver death dealers Blood Incantation round out this once-in-a-lifetime bill. New York death metal icons Immolation will join the final week of the tour as main support to Morbid Angel, as CANNIBAL CORPSE exit the tour after the New York City date.
CANNIBAL CORPSE released their acclaimed Red Before Black full-length last year via Metal Blade Records. Many words come to mind when you hear the name CANNIBAL CORPSE, but only one truly defines the soon-to-be thirty-year death metal veterans: Unstoppable. Produced by Erik Rutan (Hate Eternal, Goatwhore) – who is also filling in on guitar for this tour, Red Before Black serves to not only reiterate this but to once more raise the stakes, making it abundantly clear who sets the standard when it comes to manifesting consistently compelling music that is as brutal as it is complex.
CANNIBAL CORPSE:
Website | Bandcamp | Facebook | Instagram | Twitter | Youtube
---
MORBID ANGEL will be touring in support of their Kingdoms Disdained full-length released in 2017 via Silver Lining Music. The critically-lauded record reunites founding guitarist Trey Azagthoth with bassist/vocalist Steve Tucker. Captured at Mana Studios in St. Petersburg, Florida and produced by MORBID ANGEL with Erik Rutan, the record delivers eleven pieces of devastatingly dynamic death metal.
MORBID ANGEL:
Website | Bandcamp (Earache) | Bandcamp (Season of Mist) |Facebook | Instagram | Twitter | Youtube
---
Forged in 2011, NECROT — founded by current and former members of Acephalix, Vastum, Saviours, Watch Them Die, Atrament, and more — unleashed their The Labyrinth full-length in 2016 via Tankcrimes, then their critically-adored Blood Offerings full-length in 2017. The latter being captured by Greg Wilkinson (Vastum, Graves At Sea) and mastered by Brad Boatright (Nails, Gatecreeper), the record earned the #29 spot on Billboard's Hard Rock Chart and #52 on Billboard's New Artist Chart upon its first week of release.
NECROT:
Bandcamp | Facebook | Instagram
---
Starspawn, the debut from Colorado's BLOOD INCANTATION is a 30-minute cerebral whirlwind of powerful atmospheric death metal. The intense and otherworldly technical/ambient/funeral death metal of Starspawn leaves the listener feeling transcendentally disembodied at the end of an unknown dimension. Produced entirely in analog, the energy and magnetism of live BLOODINCANTATION is tangibly melting through the speakers, and the songwriting, production and performance constellations have all fully aligned.
BLOOD INCANTATION:
Bandcamp