Music Video: ABNORMALITY – "Mechanisms of Omniscience"
---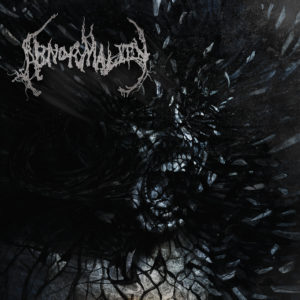 Massachusetts-based extreme metal outfit ABNORMALITY will be releasing their upcoming sophomore full-length, Mechanisms of Omniscience, on April 29th worldwide via Metal Blade Records! Marrying the ceaseless brutality coming out of New York and New England to the hyper-blasting intensity endemic to Quebecois death metal, Mechanisms of Omniscience is as unrelenting as it is passionate, and the album tackles real world issues with intelligence and raw emotion.
For a preview of Mechanisms of Omniscience, a new video for the title track (directed and produced by Jim Foster of Red 13 Media) can be viewed below. In conjunction with Mechanisms of Omniscience's release, ABNORMALITY will join Soulfly, Suffocation, Battlecross, and Lody Kong on a USA trek that kicks off April 22nd in San Antonio, TX.
"I am interested in the true nature of the world, the power structure and why the world is the way it is. There are many illusions out there, or blatant lies, rewritten history, and I do my own investigations and attempt to see through falsities. I want to know about human nature, how and why people can be cruel to each other, and why there is so much suffering in the world." ~ Vocalist Mallika Sundaramurthy, who splits lyric writing duties with drummer Jay Blaisdell.
Formed in 2005, ABNORMALITY drew its members from the ranks of units such as Teratism, Forced Asphyxiation, Goratory and Sexcrement, and they have worked patiently and persistently to build up a grassroots following, maintaining their integrity while steadily expanding beyond their local scene. In 2010, they dropped their debut EP, The Collective Calm In Mortal Oblivion, which immediately drew attention in the underground, followed by the crushing and critically acclaimed full-length, Contaminating The Hive Mind (2012) on Sevared Records and limited edition vinyl through Threshold of Pain Records, cementing their status as one of the heaviest and most dynamic bands in the genre. Now, with their upcoming sophomore effort, Mechanisms of Omniscience – produced once again by Peter Rutcho, and featuring artwork by vocalist Mallika Sundaramurthy – the quintet have never been more serious about getting their message out there, as well as ensuring legions of the moshing masses incur whiplash.
[embedyt] http://www.youtube.com/watch?v=ZEtRaoDKQhk[/embedyt]
Mechanisms of Omniscience track listing:
1. Swarm
2. Synthetic Pathogenesis
3. Mechanisms of Omniscience
4. Catalyst of Metamorphosis
5. Vigilant Ignorance
6. Irreversible
7. Hopeless Masses
8. Assimilation
9. Cymatic Hallucinations
10. Consuming Infinity
ABNORMALITY w/ Soulfly, Suffocation, Battlecross, Lody Kong:
Apr. 22 – San Antonio, TX – Korova
Apr. 23 – McAllen, TX Cine – El Rey
Apr. 24 – Dallas, TX – Gas Monkey*
Apr. 25 – New Orleans, LA – Southport Hall
Apr. 26 – Atlanta, GA – Masquerade
Apr. 27 – Fayetteville, NC – Rock Shop
Apr. 28 – Baltimore, MD – Soundstage
Apr. 29 – Long Island, NY – Revolution
Apr. 30 – Providence, RI – Fete Ballroom
May 1 – Lowell, MA – Mill City Ballroom
May 3 – Rochester, NY – Water Street Music Hall
May 4 – Joliet, IL – Bada Brew
May 5 – Valparaiso, IN – Big Shots
May 6 – Cleveland, OH – Agora Ballroom
May 7 – Dayton, OH – Oddbody's
May 8 – Indianapolis, IN – 5th Quarter
May 10 – Kansas City, MO – Riot Room
May 11 – Colorado Springs, CO – Black Sheep
May 12 – Denver, CO – Marquis Theater
May 13 – Idaho Fall, ID – The Falls
May 14 – Walla Walla, WA – Main Street Studios
May 15 – Seattle, WA – Studio Seven
May 17 – Portland, OR – Dantes
May 18 – Orangevale, CA – Boardwalk
May 19 – Oakland, CA – Oakland Metro
May 20 – Los Angeles, CA – Whisky A Go Go
*=no Suffocation