MAYHEM Reissue and Remaster 'Grand Declaration of War'
---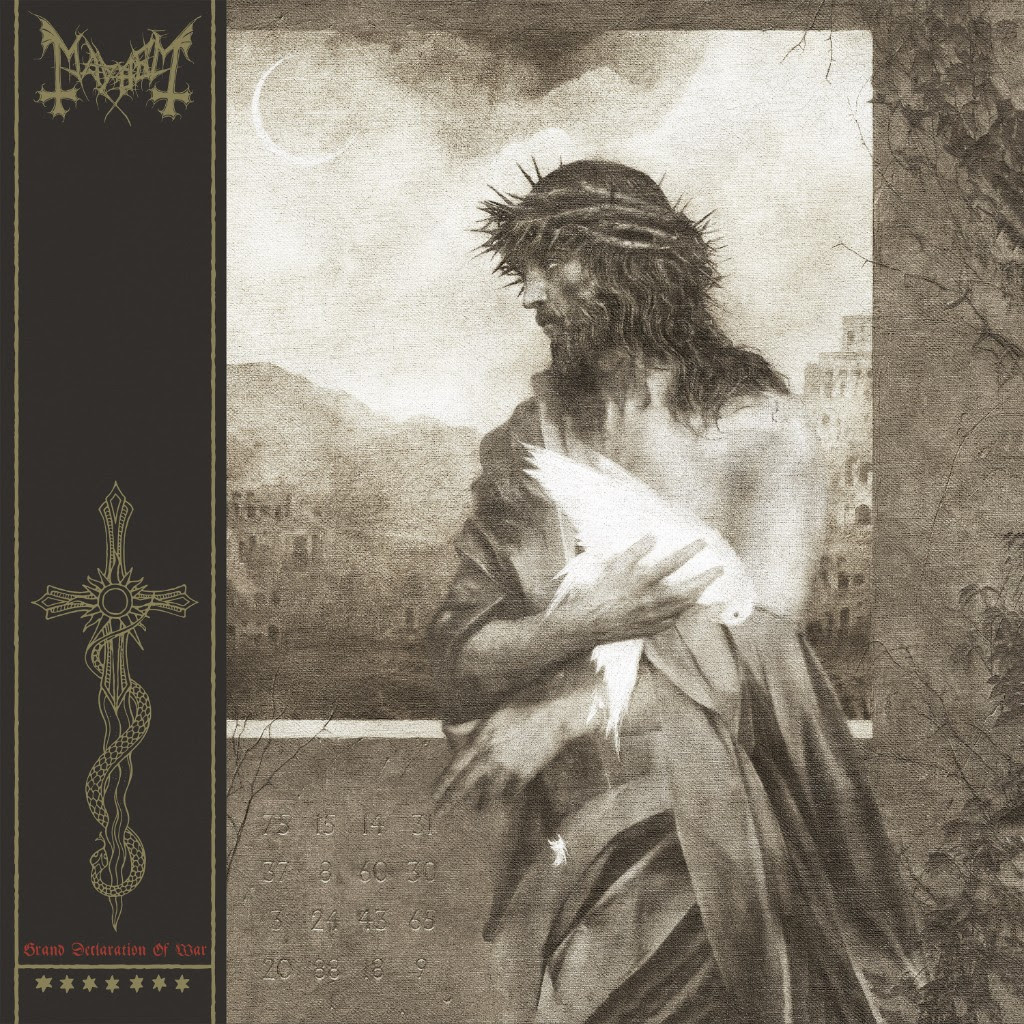 Norway's MAYHEM, one of metal's most controversial and influential bands, will reissue their most polarizing album, Grand Declaration of War on December 7th via Season of Mist Records. Pre-orders for the album are available here.
Originally released in 2000, Grand Declaration of War is the second full-length studio album by MAYHEM.
An abrupt shift away from black metal orthodoxy, Grand Declaration of War veered sharply in a progressive and dissonant direction that split the scene asunder. Newly remixed and remastered under the watchful eye of Hellhammer and Blasphemer at Orgone Studio with Jaime Gomez Arellano (Primordial, Cathedral, Oranssi Pazuzu) and featuring new art from Glyn Smyth (Unearthly Trance, Rose Kemp) the polarizing Grand Declaration of War can be experienced anew. Revisit this genre classic that informs the direction of these titans to this day, and casts a shadow over the scene at large.
Regarding the Grand Declaration of War remaster, Jaime Gomez Arellano comments,
It was a challenging remix to do, starting with the now obsolete format it was recorded on (ADAT). When we got the tapes, they were sent to a transfer specialist here in the UK and they were in an incubator for a couple of days to ensure they weren't destroyed when played back on the ADAT deck (tape doesn't age well if not stored correctly). Although the overall recording of GDoW was done to a very high standard, the main two things that bugged me was the drum sound and the overall crispiness/digital thin-sound of it (ADAT's don't sound very good IMO). The biggest challenge (you guessed it) was the drums.

Hellhammer recorded on an early Roland Vdrum kit with real cymbals. Back then those clicky, super compressed drum sounds were cool, but I think most of us agree these days that it's an unnatural sound and the samples themselves weren't that good. I had to split each tom hit into a separate track, which was very time consuming. I literally had to go pretty much though every drum hit to make sure the new samples were triggering correctly and believe me, there are A LOT of drum hits on this album. My goal was to make it sound more like a real kit. After much work and refining, Hellhammer came to visit me at my studio for a few days where we went through every drum track to ensure it was accurate to his performance.

The bass guitar pretty much didn't exist. After bringing it forward and beefing it up, I was surprised to hear some very cool bass lines that I've never noticed before. The recorded guitar sounds were killer actually, they were just a little thin and crispy so I gave them more "body" and a bit more "warmth" without hindering Rune's quantum precision. Maniac didn't want any changes to his voice and I totally respect that. I painstakingly compared the original album vocal effects and levels to preserve it as close as I could. I ended up mastering the album to analogue tape to get a bit more warmth, depth and bottom end. I hope you all enjoy the new mix of this legendary album!"
Grand Declaration of War track listing:
1. A Grand Declaration of War
2. In the Lies Where Upon You Lay
3. A Time to Die
4. View from Nihil; Pt. 1
5. View From Nihil; Pt. 2
6. A Bloodsword And A Colder Sun, Pt. 1
7. A Bloodsword And A Colder Sun, Pt. 2
8. Crystalized Pain In Deconstruction
9. Completion in Science of Agony, Pt. 1
10. To Daimonion
11. Untitled I
12. Untitled II
13. Completion In Science of Agony Pt. 2