UNSANE Issues Track Listing and Art for 8th Studio Album, 'Sterilize'
---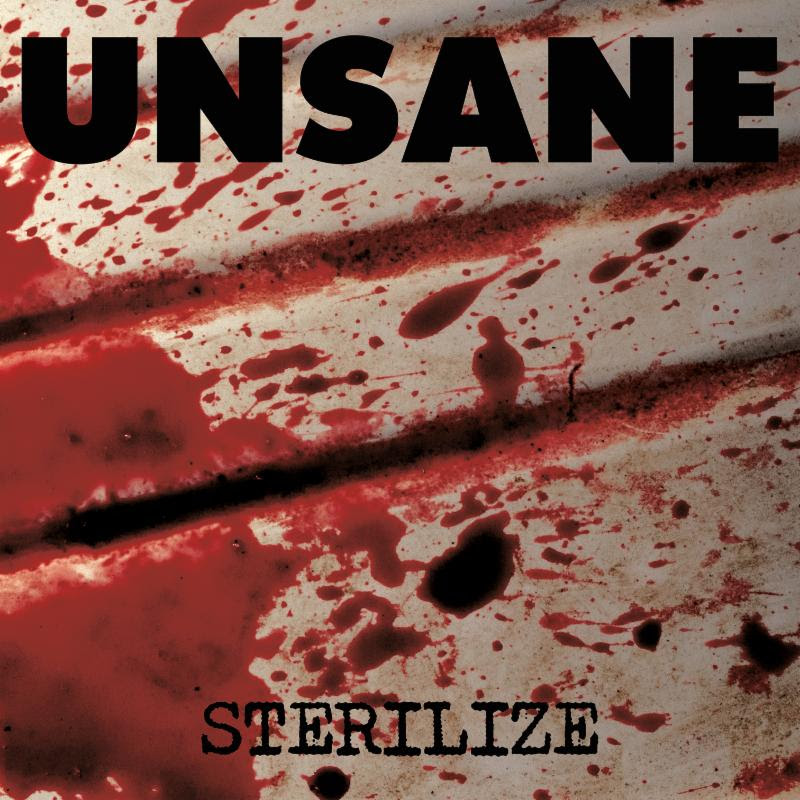 New York City noise rock kings UNSANE have issued the cover artwork and track listing for their impending eighth studio album, and first for Southern Lord, Sterilize. The album's September release is preceded by a run of July/August tour dates blanketing the western half of the US.
Closing a five-year gap since the 2012 release of their Wreck LP through Alternative Tentacles, UNSANE makes a vicious return with the pummeling Sterilize, a record that recalls the most defining elements of the band's seminal albums, surging with their unrelenting singular sound created by guitarist/vocalist Chris Spencer, bassist/vocalist Dave Curran, and drummer Vinnie Signorelli. Sterilize was produced by UNSANE, recorded by Dave Curran at Gatos Trail Studios in Yucca Valley, California, mixed by Andrew Schneider at Acre in New York City, and mastered by Carl Saff at Saff Mastering in Chicago. Sterilize showcases UNSANE sounding as dense and damaging as ever, and sees them remaining as necessary as ever, nearly three decades since they began.
Since 1988, UNSANE has pounded the planet with their caustic grooves and foundation-crumbling riffs, having released LPs through a wide range of labels including Matador/Atlantic, Amphetamine Reptile, Relapse, Ipecac, Alternative Tentacles, and others, not to mention a wide range of singles, splits, and live albums. The band's gnarled blend of punk, metal, noise, and hardcore helping to define the "AmRep sound" alongside other forerunners of the style, Today Is The Day, The Jesus Lizard, Helmet, Tad, Cows, Melvins, and others.
Southern Lord will release UNSANE's Sterilize on September 29th, 2017; the cover art and track listing for the album have now been issued.
Sterilize track listing:
1. Factory
2. The Grind
2. Aberration
4. No Reprieve
5. Lung
6. Inclusion
7. Distance
8. A Slow Reaction
9. Parasitic
10. Avail
UNSANE has announced a run of stateside tour dates advancing the release of Sterilize. From July 15th through August 3rd, the western US trek is booked around UNSANE's performance at AmRep Bash 17 in Minneapolis, with Fashion Week providing support for the entire tour.
UNSANE w/ Fashion Week:
7/15/2017 Ash St. Saloon – Portland, OR
7/16/2017 Highline – Seattle, WA
7/18/2017 Hi Dive – Denver, CO
7/19/2017 Slowdown – Omaha, NE
7/20/2017 Riot Room – Kansas City, MO
7/21/2017 AmRep Bash 17 – Minneapolis, MN
7/22/2017 Rock Island Brewing – Rock Island, IL
7/23/2017 Beat Kitchen – Chicago, IL
7/25/2017 Fubar – St. Louis, MO
7/26/2017 Growlers – Memphis, TN
7/27/2017 Three Links – Dallas, TX
7/28/2017 Sidewinder – Austin, TX
7/29/2017 The Secret Group – Houston, TX
7/31/2017 The Rebel Lounge – Phoenix, AZ
8/01/2017 Casbah – San Diego, CA
8/02/2017 Five Star Bar – Los Angeles, CA
8/03/2017 The Ritz – San Jose, CA
[embedyt] http://www.youtube.com/watch?v=XqF1nyjCU8M[/embedyt]