Tony Hawk Helps Celebrate His Foundation's 500th Skatepark – A-Dog Skatepark
---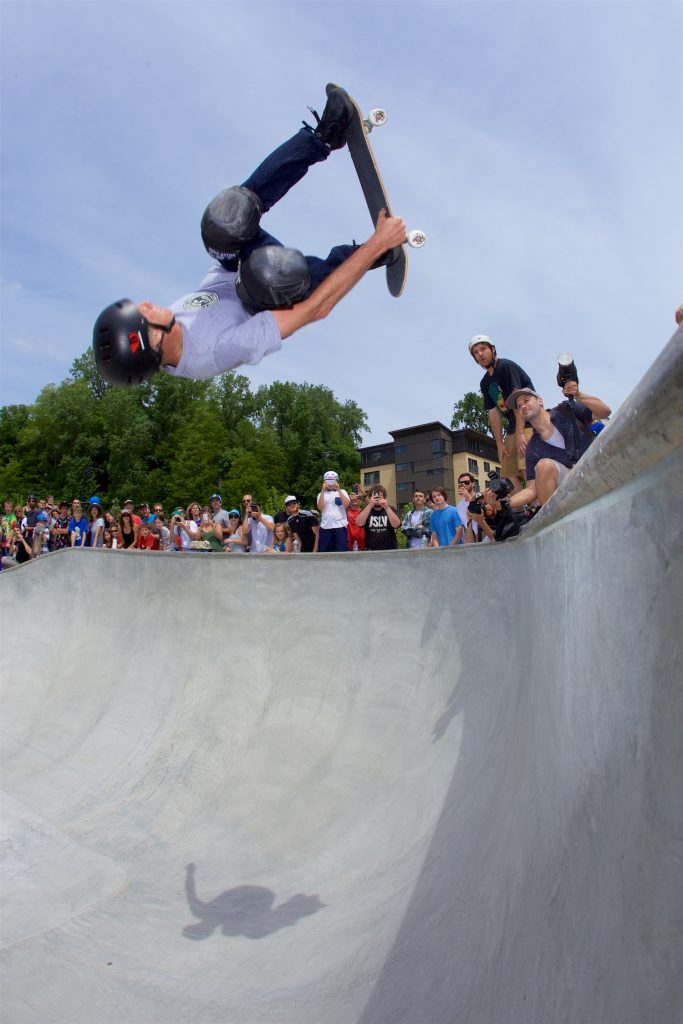 Locals attending the naming ceremony for Burlington, Vermont's Andy "A-Dog" Williams Skatepark were surprised to see a familiar face in the lineup around the 21,000-square-foot park's bowl, as Tony Hawk made an unannounced appearance at the June 4th event and helped inaugurate the newly named park by demonstrating its true potential.
Hawk arrived with fellow Birdhouse Skateboards pros Shawn Hale and Clint Walker, and South African phenom Thalente Biyela, who blended in with the park's regulars and enjoyed the downtown-waterfront scenery, as well as the skatepark's many unique features. With a flowing streetscape surrounding an amorphous flow bowl that descends to a 10-foot depth at one end, A-Dog Skatepark has become one of the Northeast's premier skate destinations.
The park is the result of more than ten years of persistent grassroots advocacy. Spearheaded by Brendan Foster and Trina Zine of Burlington's Maven Skate Shop, the strong community support for the project helped it qualify for funding from the Tony Hawk Foundation in 2010. Said Foster:
"We applied for a $10,000 grant from the Tony Hawk Foundation, which was a catalyst in helping our project succeed. First, it showed Burlington we had real money to bring to the table and were seriously dedicated to making this project happen. Second, we had Tony Hawk's endorsement, a stamp of approval from the most recognized skateboarder in the world! The Tony Hawk grant shifted the project into a higher gear and we immediately gained momentum. It was a long process, but the THF grant was our first major breakthrough."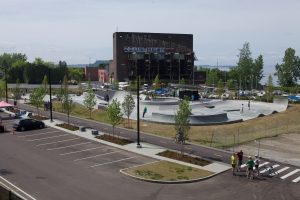 A newly elected mayor and city council also took up the cause, and together the locals and their leadership chose a central location along the redeveloped Lake Champlain waterfront, and brought in top designers and builders from Grindline and Artisan Skateparks to develop the landmark facility.
Andy "A-Dog" Williams was a local skater, DJ, and artist who helped create the city's previous temporary skatepark, and was integral to the effort to build the permanent park. When he passed away from Leukemia in 2013, his friends resolved to dedicate the skatepark to him. Little did they know that the completion of A-Dog's park also set a milestone for the Tony Hawk Foundation. Commented Hawk:
"It was an honor to be in Burlington for the A-Dog Skatepark naming ceremony and to skate with the locals. We're proud to have been involved with this project—it's a great park that resulted from a strong grassroots effort from local advocates and a true commitment from the city. It also represents the 500th park to open with assistance from THF. Here's to the next 500!"
Communities in the U.S. that are pursuing free, concrete skateparks are encouraged to learn more about the process at www.publicskateparkguide.org. To learn about THF skatepark grants, visit www.tonyhawkfoundation.org.
A charitable, non-profit organization, the Tony Hawk Foundation was established in 2002 by its namesake, professional skateboarder Tony Hawk. THF promotes and provides technical assistance and funds for high-quality public skateparks in low-income areas throughout the United States that promote healthy, active lifestyles, and to International programs that enrich the lives of youth through skateboarding.
Domestically, the foundation's Skatepark Grant program has awarded over $5.5-million to 572 communities in all 50 states. The foundation focuses on working with local officials and grassroots, community-based organizations that plan to hire designers and contractors with strong experience designing and building skateparks.
[embedyt] http://www.youtube.com/watch?v=ARqylddqwiw[/embedyt]