BARONESS and PALLBEARER Touring the US This Summer
---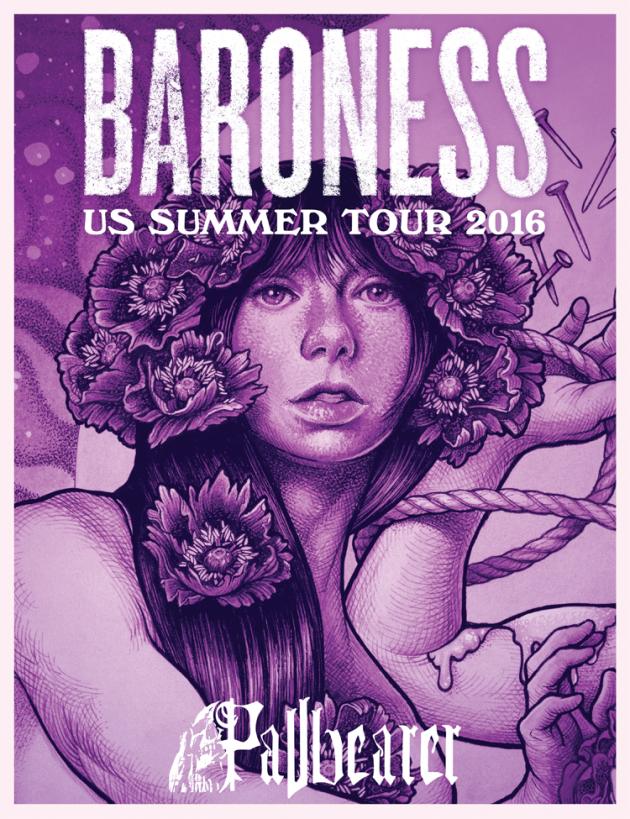 BARONESS have announced a US tour with PALLBEARER this August and September. Dates for this tour are below.
BARONESS released their latest offering, Purple, this past December, 2015 on their own newly formed label Abraxan Hymns. Having released three prior full lengths on Relapse Records, Red (2007), Blue (2009), and Yellow & Green (2012) and a handful of splits and EPS, BARONESS have earned a reputation for creating captivating soundscapes.
PALLBEARER has recently entered Fellowship Hall Sound Studios in Little Rock, AR to begin tracking their third full length album. Their latest effort, 2014's Foundations of Burden was on of the best doom albums of the year, creating a more expansive, advanced, crushing, and emotionally charged album that takes everything to the next level beyond its predecessor. Let's see what they do on number three.
Also Profound Lore will be releasing a limited one-time pressing vinyl-only new PALLBEARER EP titled Fear & Fury late summer/early fall. More news surrounding the details behind this release at a later time.
[embedyt] http://www.youtube.com/watch?v=hS5osAdTnm0[/embedyt]
[embedyt] http://www.youtube.com/watch?v=rJKOrCAkt1A[/embedyt]
BARONESS and PALLBEARER live:
08/11 – Richmond, VA @ Strange Matter**
08/12 – Washington, DC @ The Howard Theater
08/13 – Northampton, MA @ Pearl Street Ballroom
08/14 – New York, NY @ Webster Hall
08/15 – Philadelphia, PA @ Kung Fu Necktie**
08/16 – Providence, RI @ Fete Ballroom
08/17 – Buffalo, NY @ Waiting Room
08/19 – Cleveland, OH @ House Of Blues
08/20 – Detroit, MI @ St. Andrews
08/21 – Chicago, IL @ The Metro
08/23 – Minneapolis, MN @ The Varsity Theater
08/24 – Lawrence, KS @ The Granada Theater
08/25 – Denver, CO @ Larimer Lounge**
08/26 – Albuquerque, NM @ Sunshine Theater
08/27 – Pheonix, AZ @ Club Crescent
08/29 – San Francisco, CA @ Bottom Of The Hill**
08/30 – San Diego, CA @ The Observatory Northpark
08/31 – Tucson, AZ @ The Rock
09/02 – Dallas, TZ @ Granada Theater
09/03 – Memphis, TN @ New Daisy Theatre
09/04 – Baton Rouge, LA @ The Varsity Theater
09/06 – Orlando, FL @ The Beachum Theater
09/07 – St. Petersburg, FL @ State Theater
09/09 – Charleston, SC @ The Music Farm
09/10 – Asheville, NC @ The Mothlight**
**Pallbearer Only