American Grindcore Icons TERRORIZER to Release 'Of Caustic Attack' this Fall
---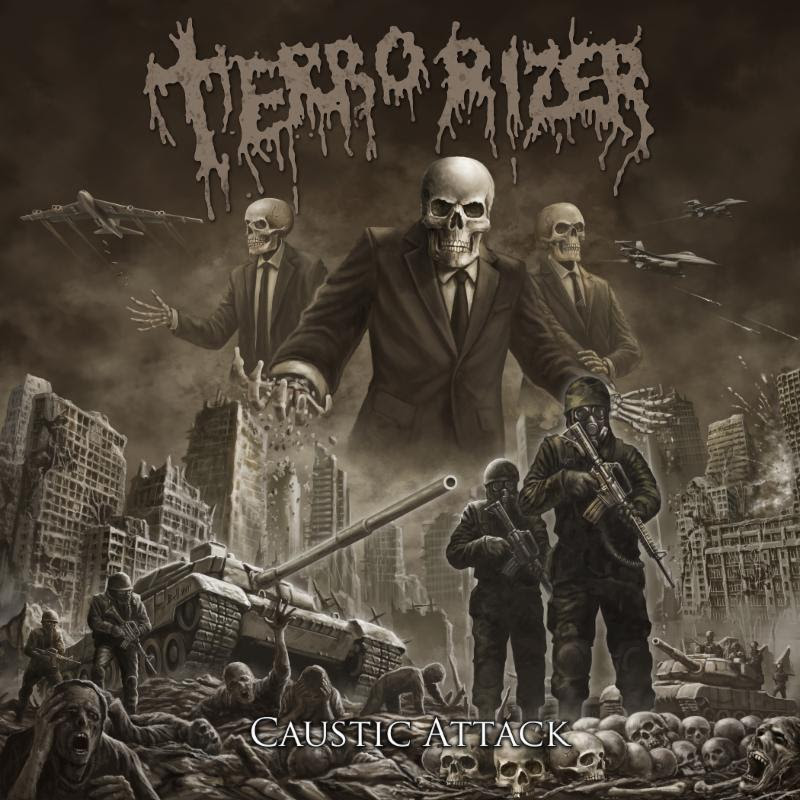 American grindcore icons TERRORIZER, featuring legendary drummer Pete Sandoval, have united with The End Records for the release of their long-anticipated new full-length, Caustic Attack.
Produced by Jason Suecof (Deicide, All That Remains, Kataklysm, Battlecross) at Audiohammer Studios in Sanford, Florida and featuring the apocalyptic cover art of Timbul Cahyono (Rotting Corpse, Pyrexia), the record serves as the band's first studio offering in six years.
Before Pete Sandoval recorded Morbid Angel's first album, 1989's Altars Of Madness, he performed on two demos and a split album with his original band TERRORIZER. Today, the group's 1989 full-length debut World Downfall is still considered a pinnacle for death metal and grindcore, featuring impossibly fast blast-beats and double-bass drumming along with a blitzkrieg attack by late guitarist Jesse Pintado (Napalm Death), and ex-vocalist Oscar Garcia (Nausea). The 1989 lineup was rounded out by Sandoval and then-fellow Morbid Angel bandmate David Vincent on bass.
Over the next twenty-three years, Sandoval took time between Morbid Angel albums to continue working with TERRORIZER, recording two more cataclysmic full-lengths, 2006's Darker Days Ahead and 2012's Hordes Of Zombies. And now, another six years down the burning highway, TERRORIZER is back with Caustic Attack, their heaviest and most eclectic album to date.
TERRORIZER started working on Caustic Attack in 2014, but before they could lay down a single bar of music, Sandoval had to make sure he was healthy enough to work on a new album – which was far from a sure thing. Rewind to 2009 when Sandoval's suffered a severe back injury caused by decades of Olympic-class death metal drumming. After seeing different doctors and exploring his options, Sandoval opted for invasive surgery to repair the deteriorated discs between interlocking vertebrae in his spine.
http://www.facebook.com/terrorizerofficial
http://twitter.com/terrorizernews
TERRORIZER Discography:
Nightmares, 1987
Demo '87, 1988
Terrorizer / Nausea Split, 1988
World Downfall, 1989
Darker Days Ahead, 2006
Hordes Of Zombies, 2012
TERRORIZER:
Pete Sandoval – drums
Lee Harrison – guitars
Sam Molina – bass/vocals