Music Video: MOON TOOTH – "Igneous"
---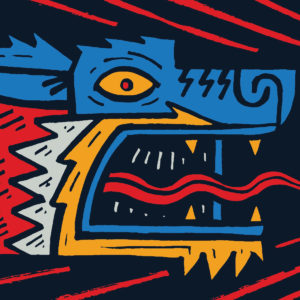 February 5th, 2016 marked the release of Chromaparagon, the debut full-length album by Long Island, New York progressive heavy rockers MOON TOOTH. Watch the video for "Igneous", directed by Kyle Monroe, below.
A fireworks display of melody and rhythm, Chromaparagon is more than that too – its progressive, aggressive sound is brimming with soul, riddled with hairpin turns, and delivered with the grace and swing of real virtuosos. Over the course of twelve songs, MOON TOOTH mashes together rock, metal, and blues, into a fusion that bursts with color. There are few limits here. MOON TOOTH possesses the imagination and skill to swerve into whatever musical direction it wants. But this band wanders without getting lost; it channels its wild dreaming and black-belt chops into an album that drives forward with purpose.
Chromaparagon was recorded, mixed, and mastered by MOON TOOTH drummer Ray Marte. The vivid cover art was created by Jon Contino. It is preceded by the band's 2013 debut EP, Freaks.
[embedyt] http://www.youtube.com/watch?v=O6I6kHqwbVI[/embedyt]
MOON TOOTH live:
July 22: Port City Music Hall – Portland, ME
July 23: Palladium Upstairs – Worcester, MA
July 24: Saint Vitus – Brooklyn, NY
July 25: Amityville Music Hall – Amityvlle, NY
July 26: Strange Matter – Richmond, VA
July 27: The Concourse – Knoxville, TN
July 28: The End – Nashville, TN
July 29: The Demo – St Louis, MO
July 30: Rockhouse Live – Memphis, TN
July 31: 89th Street – Oklahoma CIty, OK
August 1: TBA – Santa Fe, NM
August 2: Black Sheep – Colorado Springs, CO
August 3: Independence Ballroom – Grand Junction, CO
August 4: Divebar – Las Vegas, NV
August 5: The Garage – Ventura, CA
August 6: Constellation Room – Santa Ana, CA