LOS BUNGALITOS Announce New EP & Tour Dates
---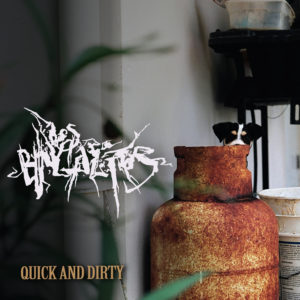 Bilingual thrash/hardcore band LOS BUNGALITOS have announced tour dates in the Northeast US and Canada this October and November. Sago of Toronto and Fredericton, New Brunswick's Hard Charger will each join them on different legs.
LOS BUNGALITOS have also released the "Quick and Dirty" EP, their first new material since 2013's full-length Aventura Sin Final. Containing songs written for their forthcoming 2017 full-length, Quick and Dirty showcases a band who've grown into their own with four bursts of furious hardcore.
The Lowell, Massachusetts-based outfit featuring members of Hivesmasher are sticking to the same DIY ethic they've kept for the last 13 years, all songs were recorded in the band's practice space by Tim (drums) and Julius (guitar), mixed and mastered by Tim, and all artwork is by Joe (Bass).
09/29 – Holyoke, MA @ The Waterfront
09/30 – New Brunswick, NJ @ The Court Tavern
10/01 – Brooklyn, NY @ Aviv
11/10 – Lowell, MA @ UnchArted
11/11 – Syracuse, NY @ The Vault
11/12 – Buffalo, NY @ Sugar City
11/13 – Oshawa, ON @ TBA
11/14 – Toronto, ON @ Coalition
11/15 – Montreal, QC @ Katacombes
11/16 – Quebec City, QC @ TBA
11/17 – Fredericton, NB @ The Maniac Mansion
11/18 – Saint John, NB @ The Panic Room
11/19 – Moncton, NB @ The Esquire
11/20 – Portland, ME @ Studio 55