Interview: An Interrogation with MARK RIDDICK
---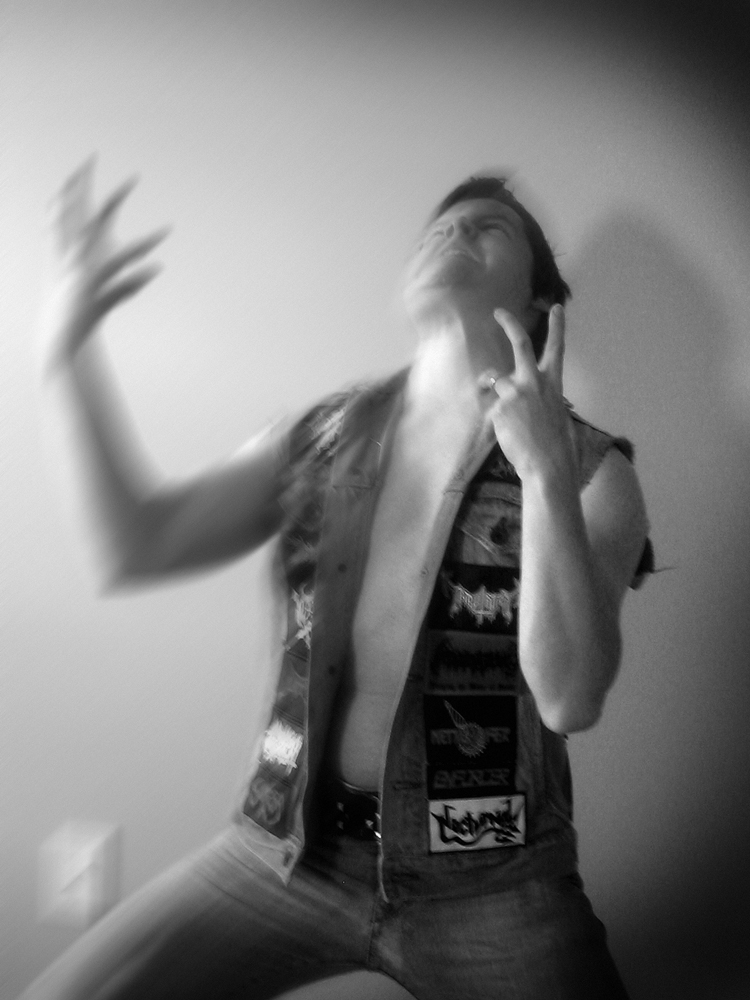 If you listen to underground extreme metal, and even if you don't, there's a chance that you may have seen the art from infamous illustrator Mark Riddick. Deeply involved in the death metal and black metal music communities, Riddick's work has been published by small underground bands, internationally known acts, record labels, zines and even corporate bodies.  Grotesque and detailed, horrifying yet captivating. If wanting to see more of the dark art from Riddick, visit his website and at the moment, he has a limited edition poster (plus other items including some of his bands music) available through his online storefront.
You create some of the darkest, horrific, and detailed art the extreme music scene sees. At what age did you start doodling this kind of imagery? Were there any artists or what inspired you toward this style?
I began my career as an illustrator for underground death/black metal bands in 1991, at age 14. Some of the other illustrators from the underground scene who influenced my work early on included Chris Moyen, Kristian Wahlin (Grotesque), Alfonso "Artgore" Ruiz (Pyphomgertum), Steve Somers (Phantasm), Phil Hampson (Nuclear Death), Stevo (Impetigo), and a few others. 
Your work is fairly consistent, black and white pictorials of skulls and symbolic images of death and human decay. How did you, or how long did it take you to develop this style? 
My style is always a work in progress. Although there are some definitive elements in my artwork I continue to challenge myself in various ways to improve my technique and to avoid redundancy. My black and white approach is homage to my roots in the underground scene—when everything was reproduced on a photocopier or in simple one or two-color offset printing. I strive to maintain the old spirit of the once-thriving underground metal scene by capturing that atmosphere in my own work, hence the strictly black and white artwork. In addition, this approach is part of my overall visual brand as an artist; it's what is immediately recognizable to my clients, comrades, and fan base.
When being approached and given a concept to bring to life, how do you get the creative juices flowing? Do you listen to a certain kind of music while drafting? Eat apple pie? Sacrifice a virgin goat?
There certainly isn't as much creativity involved when a customer comes to me with a concept vice having to create something from my imagination. The composition of a piece is the most vital element; even more so than the subject matter however when I have to draw from my imagination, I often turn to other artists to get my creative juices flowing.
Do you remember the first commissioned piece you did?
Yes, it was to create a cover and some filler artwork for a small underground fanzine called, Scavenger. In retrospect the artwork was poorly executed but seeing my work reproduced in print motivated me to pursue more opportunities to get my artwork published.
You have done artwork for Arsis to Nunslaughter to Morbid Angel to Revocation to Capharnaum to Exodus, along with magazine and concert imaging, throughout the years what works are you most proud of or acted as a milestone in your career?
It's all a bit of a blur to me but it certainly has been an honor to publish my work via some death/black/thrash metal staples. I suppose a milestone in my career occurred when the Cartoon Network contacted me out of the blue to conjure some illustrations for Dethklok—from the Adult Swim series, Metalocalypse. I've since been reached out to be unexpected major clients like the Travel Channel, NBC, Nike, microbreweries, and fashion designers for illustration work. It's wonderful to have these opportunities come my way but my true passion is to illustrate for underground metal bands… I love this music and it's where I'm most comfortable.
With digital technology becoming more and more popular and easier to obtain and use, what are your thoughts regarding hand illustration opposed to digital creation?
Hand illustration trumps anything computer-generated in my opinion. While I've seen some absolutely breathtaking work created digitally, it's only pixels and megabytes. There's nothing really tangible about it. On top of this, there is so much garbage and poorly-designed album covers and layouts in the metal scene; it really turns my stomach. I'd much rather put a pen to paper and get my sharpies out than to have to click a mouse or use a stylus. There is a visceral human connection between something created via a do-it-yourself approach versus viewing something on a computer screen or in printed format.
What are you currently working on?
I'm currently working on illustrations for One Direction Merchandise (commercial retail), Witchburner, Gravecrusher, Varathron, Swamp, Thrash Attack 'zine, and 3Floyds Brewery.
Do you tend to work on one piece at a time or do you bounce around and handle multiple projects?
I handle multiple projects at once. It usually takes between 1-3 weeks to complete a job depending on my workload, etc.
It's been said that you are working on an extended version or a new book for Logos from Hell which was released back in 2008 if I'm correct. What's the status on that and what made you decide to extend it?
Yes, I'm currently working on a new and extended version of the Logos from Hell book. The previous version of the book skimmed the surface. I plan to go a bit more in-depth this time around and also feature more artists and interviews, etc. I only have about 250 pages completed of the new version so it's still only about a quarter finished. Doomentia Press (Czech Republic) will likely be publishing the book once it is complete.

Aside from being a creative mastermind visually, you have been a member of several death metal bands, a couple of which you perform most if not every instrument. What's going on with Fetid Zombie, Macabra and Grave Wax?
Fetid Zombie is my main solo project and is very active at the moment. I have a few split releases in progress with Deathevoker, Master of Cruelty, Battlestorm, and Svierg. I'm also working on my fifth full-length effort at the moment. Macabra just released a split 7" with Father Befouled and is currently compiling its entire discography for a 2xLP release through Apocalyptic Empire Records (Norway). Lastly, Grave Wax—although a slow-moving project—has a split 7" planned with Revel In Flesh. Things are always busy on the music front as well as the art front.
With being active in the death metal and extreme music scene for over 20 years, looking back, how have things changed in your opinion in the eyes of the artist? What do you like that's happening now that was not years ago, as well as what don't you like that was not an issue before?
The underground scene has changed immensely since the onset of the Internet. There are pros and cons to the way the Internet has shaped the underground scene during the past two decades. Some of the benefits of the Internet include the convenience of networking, ease of collaboration, ability to market and promote with little expense, convenience of sampling music and art within seconds, etc. The greatest negative impact of the Internet is the sterile and distant feeling it leaves. It's not the same as exchanging hand-written letters, tape trading, passing fliers through the mail, etc. While it was a slow and tedious endeavor back in the day, the atmosphere and attitude of the scene was raw and do-it-yourself. One other negative impact worth noting is the ability to market oneself in an over-saturated music scene.
What's next for Mr. Mark Riddick? 
I have a few art exhibits happening this Fall. I'm also working to release my own line of skateboard decks in 2014. Other than that I plan to continue as usual with my artistic and musical endeavors. Lastly, thank you for your time and support, Matt. Metal 'til death!