Album of the Day: KRATORNAS – 'Devoured By Damnation'
---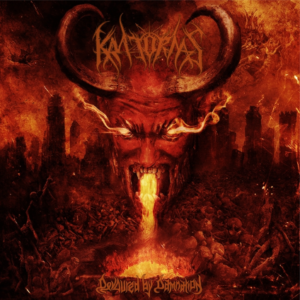 KRATORNAS, a black/grind metal duo originally from the Philippines and now based in Canada, have offered a lyric video for the track "Archangels of Destruction" from their latest album, Devoured By Damnation, released on December 8th via Grathila Records. Devoured By Damnation is the band's third full-length, following 2009's The Corroding Age of Wounds and 2007's Over The Fourth Part of The Earth, not to mention the dozen or so EPs, splits, demos, and other recordings released since forming in 1995.
If any band has ever earned its chance it is KRATORNAS, the brainchild of a certain guitarist/vocalist Zachariah. He began KRATORNAS in the early 90's despite dealing with problems many Western bands never encounter like crime, corruption, poverty, lack of equipment, or even an outlet to buy records! Truly we can see why KRATORNAS are inspired by real-life horrors. Zachariah's love of metal was born from tape-trading. To put Zachariah's glacial patience in perspective, after many primitive demos, KRATORNAS' debut album was finally released in 2007. In 2011, Zachariah left the Philippines to seek a place more friendly to his art, finally settling in Canada.
Devoured By Damnation is the first album that was properly recorded. The music is inspired by the likes of Bathory, Deicide, Sadus, Terrorizer and Vader, and will treat listeners like punching bags! It's sound being raw, primitive, deranged, and fast. If you're a fan of Beherit, (old) Bathory, Usurper, Aura Noir, or Sodom then you'll want to check this out.
[embedyt] http://www.youtube.com/watch?v=kiWYGcGjxuY[/embedyt]