Stream: Deathgrind Supergroup ASPHALT GRAVES' Debut 'The New Primitive'
---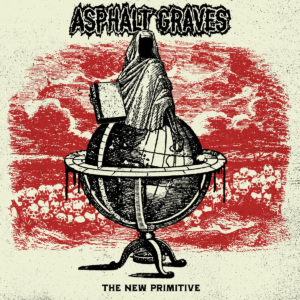 ASPHALT GRAVES, based in Richmond, Virginia, consists of Jason Netherton (Misery Index, ex-Dying Fetus), Shannon Lucas (ex-The Black Dahlia Murder), Brett Purgason (GWAR), and Adam Faris (War Torn).
The band revives the spirit of the early death-grinders – the energy and hooks of Napalm Death, Righteous Pigs, Terrorizer, Repulsion – and blasts it into the future via elite chops and modern production.
Out July 8th on Vitriol Records, The New Primitive was recorded at Audio Schmaudio Studios, GWAR's Slave Pit Studios, and Mindscape Studios, and was mastered by Scott Hull (Pig Destroyer, Agoraphobic Nosebleed).
Pressing Information:
200 – Red vinyl
800 – Black vinyl
1000 – CD