Interview: Jimmy Lundqvist of ENTRAILS
---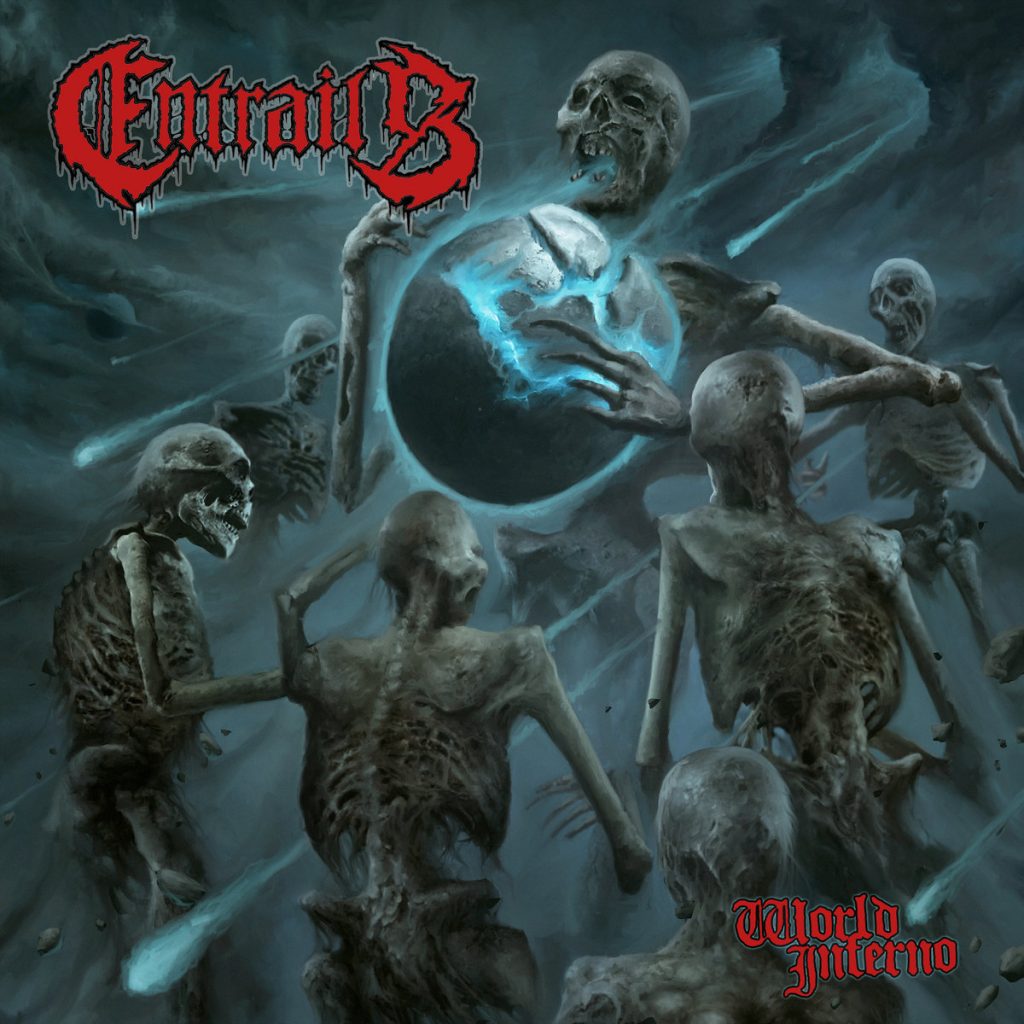 Entrails formed in 1990/91, their goal was to follow the scene that Stockholm brought to light around the time with bands like Dismember, Entombed, Grave that cemented the brilliant Swedish death metal sound from T. Skogsberg's Sunlight Studio. Unfortunately, all attempts to record a demo at the time did not produce satisfactory results.
In 1994, half of the line-up decided to move on and do other things, and by that time Entrails was put to rest as an official band. Guitarist Jimmy Lundqvist continued writing songs in the following years, but even that was put to rest in 1998.
In 2008, Entrails was finally resurrected. Soon after the band issued two demos before releasing their debut full-length album, Tales From The Morgue in June 2010 through FDA Rekotz. The album featured songs from both demos with a sound that had similarities to all those glorious Swedish death metal albums recorded in the early 90s at the infamous Sunlight Studios.
In September 2011, the second album The Tomb Awaits was released, featuring the rest of the songs from both demos as well as some old songs, mixed with some new material. FDA Rekotz handled the European release while Dark Descent Records released it in North America. During the winter of 2011/2012, the band negotiated with several labels about a new record deal. Entrails was officially signed by Metal Blade Records in March of 2012.  Raging Death, their third album, was released in May 2013.
In 2014, Entrails did some shows in the UK, played festivals like Maryland Deathfest (USA) and Stonehenge (Netherlands), and then released the Resurrected From The Grave – Demo Collection, which contained the two demos from 2009 (Reborn and Human Decay). Meanwhile, in Sweden, Lundqvist worked on his studio, adding more space to record drums – and by doing so, the "Bloodshed Studio" was complete. Soon after, rehearsals and recording for the new album began. Dan Swanö mixed and mastered the album, entitled Obliteration, with a May 2015 release through Metal Blade.
During 2016, Entrails appeared at other prestigious festivals, such as Hellfest, Dokkem, and Coast Rock Open Air. These shows gave the band the confidence they needed, and they started writing their next full-length. Lundqvist started work on a new album, and in the summer, they all started to learn and prepare for the recordings, which started in December 2016 in Lundqvist's Bloodshed Studio. Dan Swanö once again handled the mixing and mastering for the album, entitled World Inferno, which is set for a June 2017 release via Metal Blade Records.
---
Hi Jimmy! How's life on the other side of the globe?
Hello. Life is pretty good actually. It's getting hotter every day, which isn't that fun because I prefer the more normal Swedish weather with rain and normal temperatures. Not the damn desert heat.
Let's take this back and start at the beginning. What inspired you to pick up a guitar? When did you decide that you wanted to be in a band?
Inspirations came from friends and all those great bands and guitarists who delivered good music in the 80´s – and being in a "band" was also the main reason that I was interested to learn how to play guitar. I had some friends who showed me some basic stuff and then I learned by hearing. At that time, tabs or anything like that didn't exist in my world, and going to a school to learn notes and shit was not my intention. I wanted to play heavy metal and not some terrible pop. So my first distortion pedal was bought in pretty fast. Hm2 of course, but at that time, I didn't expect what that tiny thing could do for the Swedish sound.
Prior to forming Entrails in 1990, did you take part in any other bands?
Before Entrails was created, my friend, and drummer who also played in Entrails, plus myself, had a small thrash band with some other guys, I also played some covers with other friends in different circles. But when we created Entrails, it was death metal that was the big thing to do.
While the first attempt with Entrails would be fruitless, could you explain the troubles or the situations that the band was experiencing in the 90's?
Biggest issue was the money that was needed to create something good in the studio. We could only use the studio a few times for free when a friend of ours was there and "working". We didn't live in a big city so we couldn't be involved in bigger cities' communities where they had more will to help bands to record music, etc. And we didn't have that full throttle interest within the band, and that was also a bit frustrating. At that age (at 17-19 years old) there was more than music coming up in our heads, and one thing lead to another, and the band couldn't hold together and really try hard to make a damn demo. So we did one show at a competition and scared the hell out of the audience with death metal, which was rather new at that time. And shortly thereafter we put the band to rest while I continued on my own making more songs for a possible future.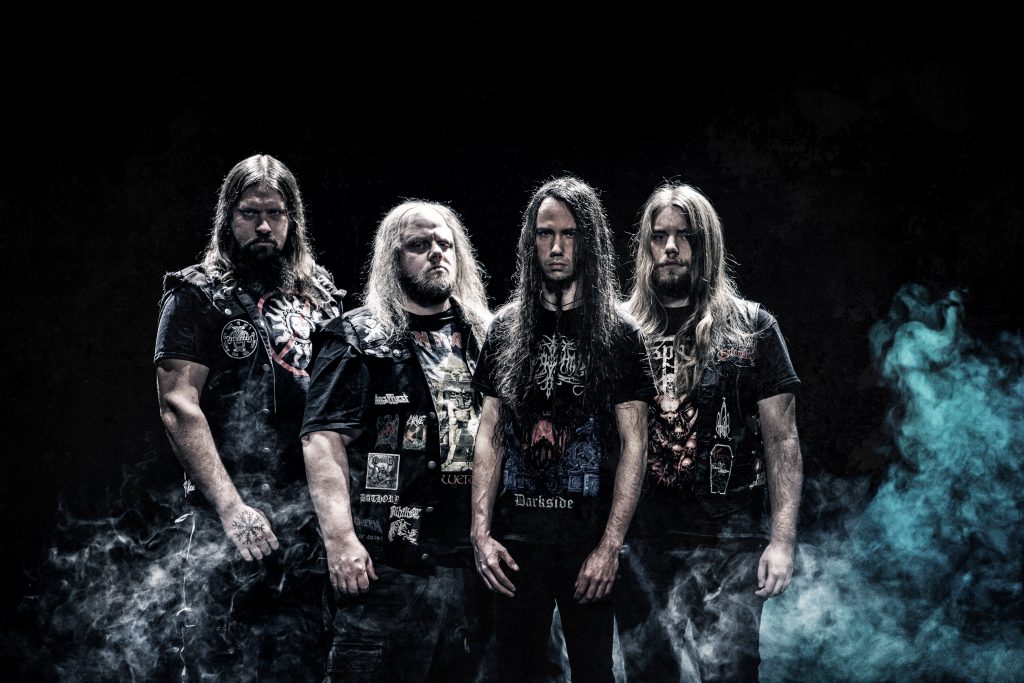 As the story goes, you found old Entrails recordings, became nostalgic, and ultimately decided to resurrect the band. What was that nostalgic feeling, what about finding those tapes ignited that flame again?
I felt that the music that came out wasn't pleasing to me at all, and when I learned how easy it was to record into a computer, I bought some stuff and learned how to do it. When I began to listen to those tapes, I was very excited about how the result would be after almost 15 years of waiting.
Since then, Entrails have been pumping out material almost every year. Does creating music just come naturally or are you constantly working at it, for the desired result?
In the beginning, I had material to do 3 albums just straight off. And after that, I've been listening to more tapes to find material to put songs together – and for missing parts, I just went into my bubble and created some more riffs and songs. I cannot force them through. Need to be in the mood and have a lot of inspiration, and I've had plenty of that since 2008 when I began with Entrails again. The new album was already made into demo songs and ready to be learned by the band in late 2015, but with the lineup changes, we waited until the summer in 2016 to learn them for the recording in December.
In regards to 'World Inferno', what was going through your mind while writing the album, anything particular that you were concentrating on?
When I wrote the album, no title was set and no lyrics written. So I just made songs to be used.  Didn't have any ideas for that album when I made those songs. I have never worked in that way. It's better to come up with titles afterwards.
'World Inferno' marks full-length number five and Entrails have been invited to perform at dozens of festivals over the past several years. It would seem that the band is on the other side of the spectrum from when the band was initially formed. What does this all mean to you? I mean, you tried, it didn't work out. Many years later you try again, and it worked.
Yeah. It's unbelievable that my old stuff could break through this massive industry when so many bands work so hard – and labels come to me, instead of the opposite way. That must mean something. I don't have the perspective that you mention though. I just do what I do and don't go deeper than that.
What are the chances of seeing Entrails live in the States this year, specifically the Northeast region?
Well. The chances aren't that big this year, but hopefully next year if promoters want us.