Gallery: NEUROSIS + SUMAC @ Saint Vitus (08/10/2015)
---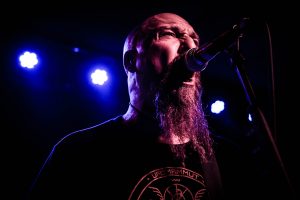 Resident photographer André Steënkamp (@aps8photography) was fortunate enough to get into the second night of the recent NEUROSIS tour when they hit Brooklyn with Aaron Turner's new musical outlet SUMAC along with BROTHERS OF THE SONIC CLOTH in tow. The first date sold out quick (@ Warsaw), luckily the following day was open and an additional show was added:
"Tiny tiny venue, great show… Was crazy seeing Neurosis at a place so small, some guy yelled about how everyone should be grateful they were playing such a venue. No wonder it sold out in the 4 hours or so after it was announced."
Since the release of their 1987 debut LP, Pain Of Mind, NEUROSIS has increasingly developed into a more potent and prolific act with each new recording and tour. Through releases on Alchemy, Lookout!, Alternative Tentacles, Relapse, Hydra Head and more – before forming their own Neurot Recordings which houses all of their recordings since the beginning of the millennium – the band has become a genre-defining institution of heavy music. The Oakland, California natives have broken ground at every turn, pioneering a sound that influenced heavyweights including Isis, Mastodon and High On Fire and inspiring endless legions of fans with their expansive, mind-altering works, as well as forming their own solo outfits and touring acts outside of NEUROSIS.
In 2012, NEUROSIS released Honor Found In Decay, recorded by Steve Albini at Electrical Audio and mastered by John Golden of Golden Mastering, the album showcasing the band taking their esoteric but leveling and hymns to even further diversified areas of exploration. Following the album's hometown release show, they disbanded with the backdrop visuals that had accompanied their live set nearly since inception, empowering their anthems in a drastically more human approach. Since the album's release, NEUROSIS has been heavily proactive tour-wise, embarking on regional bouts of touring and taking part in high-profile one-off and festival events throughout North America and Europe. And the cycle shall continue through the remainder of 2015 and onward towards their eleventh studio album. Grab Honor Found In Decay here.
[embedyt] http://www.youtube.com/watch?v=Rezrvi-IEBU[/embedyt]
In support of their recently released debut album The Deal, SUMAC announced their most extensive touring on the album yet, starting with a string of headline dates before they meet up with the legendary NEUROSIS for seven highly-anticipated shows.
SUMAC came to fruition when Aaron Turner had the urge to once again create colossal-sounding music, bringing back the heaviness that he incorporated in Isis as well as what he's currently creating with Old Man Gloom into a wholly new and different direction. A goal for the band to strive for was to write some of the heaviest music Turner had ever written, and he found the ideal partner with Baptists drummer Nick Yacyshyn. One of the best drummers in heavy music today, Yacyshyn showcases and expands his drumming talents even further with SUMAC.
The duo recorded six new tracks in Seattle in late summer of 2014 which would become The Deal with Mell Dettmer (Wolves In The Throne Room, Sunn O))), etc.). There, they were joined by Russian Circles/Botch/These Arms Are Snakes bassist Brian Cook who laid the pulse down for the album. The album was then mixed by Kurt Ballou (Converge) at Godcity Studios and mastered by Mikka Jusslla at Finvoxx Studios in Finland and the end result is an absolutely crushing album. The Deal will bring some familiarity with Turner's repertoire and will rekindle that classic Hydra Head Records forward-thinking sound and feel. The Deal is available now via Profound Lore Records on CD and digital formats and via SIGE on vinyl.