Thrice Returns! New Song + Tour Dates
---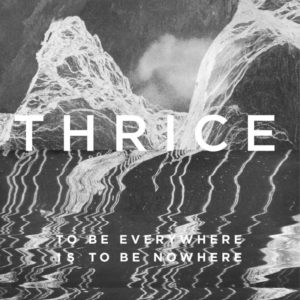 After a hiatus from writing and touring, Thrice is back and gearing up to release their ninth album. Fresh out of the studio with Eric Palmquist, the Orange County quartet are pleased to announce To Be Everywhere Is To Be Nowhere will be released on May 27, 2016 via Vagrant Records. Fans can hear a brand new song off the record, entitled "Blood on the Sand," below.
Thrice has been a staple in the alternative/modern-rock world for over fifteen years. A band known for effortlessly and continuously releasing groundbreaking records, their discography has sold over a million copies, and they've toured the world with acts like Deftones, Coheed & Cambria, Rise Against, Circa Survive and Brand New.
Thrice released their first proper full-length, Identity Crisis, in 2001 and quickly stormed to the forefront of the indie music scene as listeners rejoiced and formed what can only be described as a cult following. The band went on to release seven highly praised albums – fan favorites The Illusion Of Safety (2002), The Artist In The Ambulance (2003) and Vheissu (2005), the brilliant and eclectic four-part concept album The Alchemy Index: Fire and Water (2007) and Earth and Air (2008), the visceral and raw masterpiece, Beggars (2009), and a grunge-inspired follow-up album, Major/Minor (2011).
In celebration of To Be Everywhere Is To Be Nowhere, Thrice will be hitting the road in June with La Dispute and Gates. A full list of dates can be found below.
[embedyt] http://www.youtube.com/watch?v=C9GTEsNf_GU[/embedyt]
To Be Everywhere Is To Be Nowhere tracklisting:
1. Hurricane
2. Blood On The Sand
3. The Window
4. Wake Up
5. The Long Defeat
6. Seneca
7. Black Honey
8. Stay With Me
9. Death From Above
10. Whistleblower
11. Salt And Shadow
Thrice with La Dispute & Gates:
6/03 Los Angeles CA @ The Shrine Expo Hall
6/04 San Diego CA @ House of Blues
6/05 Tempe AZ @ The Marquee
6/07 Austin TX @ Emo's
6/08 Houston TX @ House of Blues
6/10 Atlanta GA @ The Tabernacle
6/11 Lake Buena Vista, FL @ House of Blues
6/12 Charlotte NC @ Fillmore Charlotte
6/14 Norfolk VA @ The NorVA
6/15 Silver Spring MD @ The Fillmore
6/16 New York NY @ PlayStation Theater
6/17 Philadelphia PA @ The Fillmore
6/18 Sayreville NJ @ Starland Ballroom
6/19 Boston MA @ House of Blues
6/21 Toronto ON @ Sound Academy
6/22 Detroit MI @ St. Andrew's Hall
6/23 Chicago IL @ House of Blues
6/24 Lawrence KS @ Granada Theatre
6/25 Denver CO @ The Summit Music Hall