Stream: 'All Empires Fall' the New EP from Brooklyn's Tombs
---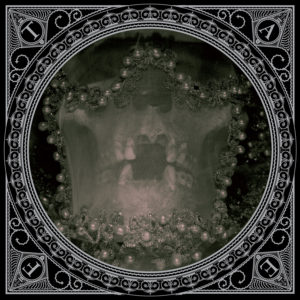 Formed in 2007, Brooklyn-based experimental metal outfit Tombs blends bleak, post-punk minimalism with the ferocious attack of sludge and traditional black metal. Over the course of the last nine years, Tombs have established themselves as an act that's as committed to consistency as it is to growth, developing smoothly (but never predictably) over the course of their career. All Empires Fall, the band's forthcoming 2016 EP, is a commanding, crushingly heavy release, one that invokes the kind of grandeur and magnitude its title suggests, and one that affirms Tombs as one of the leading lights of American – and international – black metal.
The group's dark proto-industrial sounds were first developed as a collaboration between Mike Hill (Anodyne), Dominic Seita, and Justin Ennis, and put to wax in the form of a two-song EP simply entitled Tombs (on Hill's now-defunct label Black Box Recordings.) By the time Tombs had partnered with Relapse Records and unleashed their first proper full-length, 2009's Winter Hours, Seita and Ennis had been replaced with Carson James and Andrew Hernandez respectively. Two years later, the band's sophomore outing 2011's Path of Totality featured prominently on many critics' year-end metal lists. Path of Totality's follow-up, Savage Gold (2014), also found widespread critical acclaim and garnered numerous year-end list mentions.
In addition to their highly lauded releases, TOMBS have become revered for their captivating live shows and have toured extensively with an array of artists as eclectic as their sound, trekking throughout North America and Europe with groups ranging from Eyehategod, Pelican and Isis to Wolves In The Throne Room, The Secret, Ulcerate and most recently 1349. TOMBS have also appeared at renowned festivals across the globe, including Roskilde Festival in Denmark, Roadburn in The Netherlands, and Psycho California & Maryland Deathfest in the US.
Never content to rest on their laurels, TOMBS have continued to evolve following the release of Savage Gold. 2015 saw the band welcome new drummer Charlie Schmid and keyboardist Fade Kainer (Batillus), allowing the group to vastly expand its live sound and elaborate on previous experiments in the studio. The group's first release with the new lineup, All Empires Fall, was recorded at Applehead Studios in New York and brought to life by renowned producer Sanford Parker (Minsk, Twilight, Yob). Clocking in at 24 minutes long, All Empires Fall is a succinct synthesis of the innovation that first put TOMBS on the map and of the quintessential black metal ferocity that drives the band's experimentation.
Pressing Information:
100 – Clear vinyl
500 – Silver/Swamp Green merge vinyl
1400 – Black vinyl

TOMBS
live:
May 13 Philadelphia, PA Kung Fu Necktie
May 14 Pittsburgh, PA Roboto Project
May 15 Detroit, MI El Club
May 16 Chicago, IL Chop Shop
May 18 Baltimore, MD Metro Gallery
TOMBS are:
Mike Hill – Guitar and Vocals
Benjamin Brand – Bass
Charlie Schmid – Drums
Evan Schaefer – Guitar
Fade Kainer – Synthesizer, Electronics and Vocals