Psycho Las Vegas 2017: Full Lineup – MASTODON and KING DIAMOND to Headline
---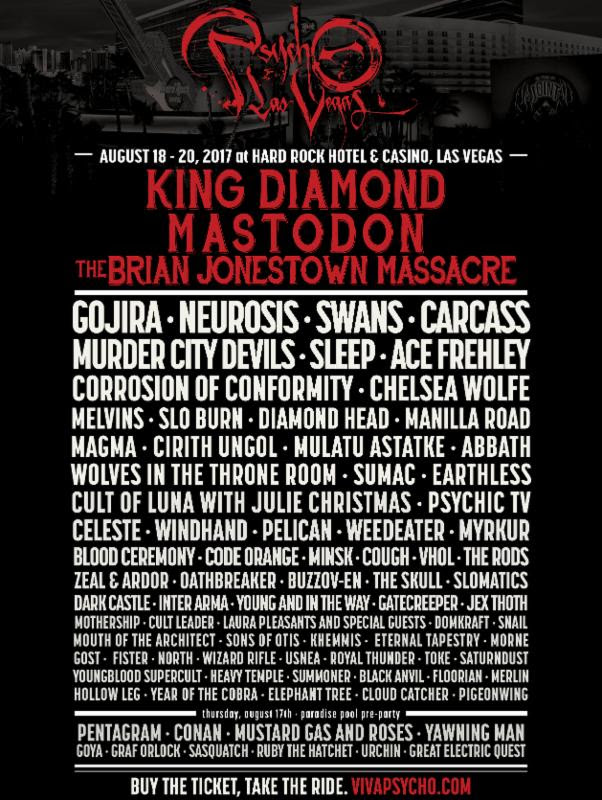 Psycho Las Vegas 2017, set to take place from August 18th through August 20th, 2017 with a pre-party August 17th at the Hard Rock Hotel And Casino Las Vegas in Las Vegas, Nevada – confirms Mastodon as its final remaining headliner.
For over 15 years, Mastodon have set the course for an entire generation of metal that's progressive and still unbridled in its heaviness. This August, they'll take their rightful place among the headliners at Psycho Las Vegas.
The Atlanta-based giants arrive on the Psycho Las Vegas bill in the righteous company of the legendary King Diamond, who'll perform the Abigail album in its entirety as a US-exclusive show for 2017, as well as post-metal forebears Neurosis, the resurgent Corrosion Of Conformity, and countless others over the course of the three-day weekend. It is already – and rightly so – being hailed as one of the best heavy lineups ever put together for an American festival.
Adding Mastodon to that mix only makes it stronger. With genre landmarks like Remission, Leviathan, and Crack The Skye in their catalog, they stand among the most pivotal acts of their era. Their latest offering is the newly-issued Emperor Of Sand, and it reaffirms their commitment to the thoughtful, winding, and furious riffing that has made them a household name among fans and imitators the world over.
And this year, Psycho Las Vegas will only up the proverbial ante with exclusive 2017 US appearances by French progressive rock unit Magma, black metallers Abbath led by former Immortal guitarist/vocalist Abbath Doom Occulta, and cult stoner/desert rock unit Slo Burn, fronted by Kyuss' John Garcia. Additionally, Mulatu Astatke, the father of Ethio-jazz, will be making his west of Chicago exclusive appearance while Manilla Road, who are celebrating their 40th anniversary, will perform their classic Crystal Logic in its entirety as a worldwide exclusive for Psycho Las Vegas. See the complete lineup below.
Tickets can be secured here. Payment options for Psycho Las Vegas are available through Affirm, with immediate delivery of tickets. Hotel discounts at the Hard Rock Hotel And Casino are also available using the code "psych17" (Note: You must use this special code at the time of booking; not when you arrive at the hotel).
PSYCHO LAS VEGAS 2017 Lineup (alphabetical):
Abbath
Ace Frehley
Black Anvil
Blood Ceremony
The Brian Jonestown Massacre
Buzzov*en
Carcass
Celeste
Chelsea Wolfe
Cirith Ungol
Cloud Catcher
Code Orange
Conan
Corrosion Of Conformity
Cough
Cult Leader
Cult Of Luna With Julie Christmas
Diamond Head
Domkraft
Earthless
Elephant Tree (Aka Flights)
Eternal Tapestry
Fister
Floorian
Gatecreeper
GEQ
Gojira
Gost
Graf Orlock
Heavy Temple
Hollow Leg
Inter Arma
Khemmis
King Diamond
Laura Pleasants & Special Guests
Magma
Manilla Road
Merlin
Mastodon
Minsk
Morne
Mothership
Mouth Of The Architect
Mulatu Astatke
Murder City Devils
Mustard Gas & Roses
Myrkur
Neurosis
North
Oathbreaker
Pelican
Pentagram
Psychic TV
The Rods
Ruby The Hatchet
Sasquatch
Saturndust (AKA Flights)
Sleep
Slo Burn
Slomatics
Snail
Sons Of Otis
Sumac
Summoner
Swans
The Skull
Toke
Urchin
Usnea
Vhol
Weedeater
Windhand
Wizard Rifle
Wolves In The Throne Room
Yawning Man
Year Of The Cobra
Youngblood Supercult
Zeal & Ardor