CONAN Live at Great Scott in Boston, MA
---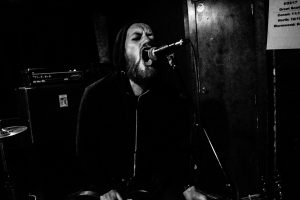 Hailing from England, caveman battle doom trio CONAN have stormed North America. On May 24th, the band would make a stop at one of my favorite venues, Great Scott in Allston, MA. This would be my first time seeing them live.
Half way through their set I put the camera away, lighting was dark and effort was made to not use a flash or speedlight so I knew my photos were only going to come out so good. Standing with a couple of pals to experience the mighty CONAN, I found my head slowly bobbing back and forth, yet something was not right… Disappointment perhaps? That can't be it, this band rules, how could I feel disappointed? Then it came to me… They don't sound as heavy as I thought (hoped) they would.
Have you ever stuck your head out of the car window when you're going 90mph? Well, when I took my earplugs out, my ears were immediately blasted with wave after wave after wave of the heaviest, most pulverizing sounds you could ever fathom. "They are that heavy!" I exclaimed to myself with great rapture. At times I felt as if I were slowly being crushed by the weight of the sound. Most of the time the constant shaking of the venue just made me want to poo. Many bands can be heavy, in their respected genre and style, but not so many bands can manipulate the forces of gravity such as CONAN.
Their most recent album, Revengence, was one of my favorites of 2016. Hearing those songs live after waiting so long for them to come to the States, there was no way I was going to miss them. A splendid night indeed. What else shall men ask of the gods?
You can snag a copy of Revengence along with other swag via Napalm Records here.
Remaining dates:
6/1 – Denver, CO @ Hi-Dive
6/2 – Colorado Springs, CO @ 71 Grind Fest
6/3 – Albuquerque, NM @ Sister
6/4 – Tucson, AZ @ Club Congress
[embedyt] http://www.youtube.com/watch?v=QkC5IJ-39UI[/embedyt]