Audio Triviality: Monthly Music-Themed Trivia Night (June)
---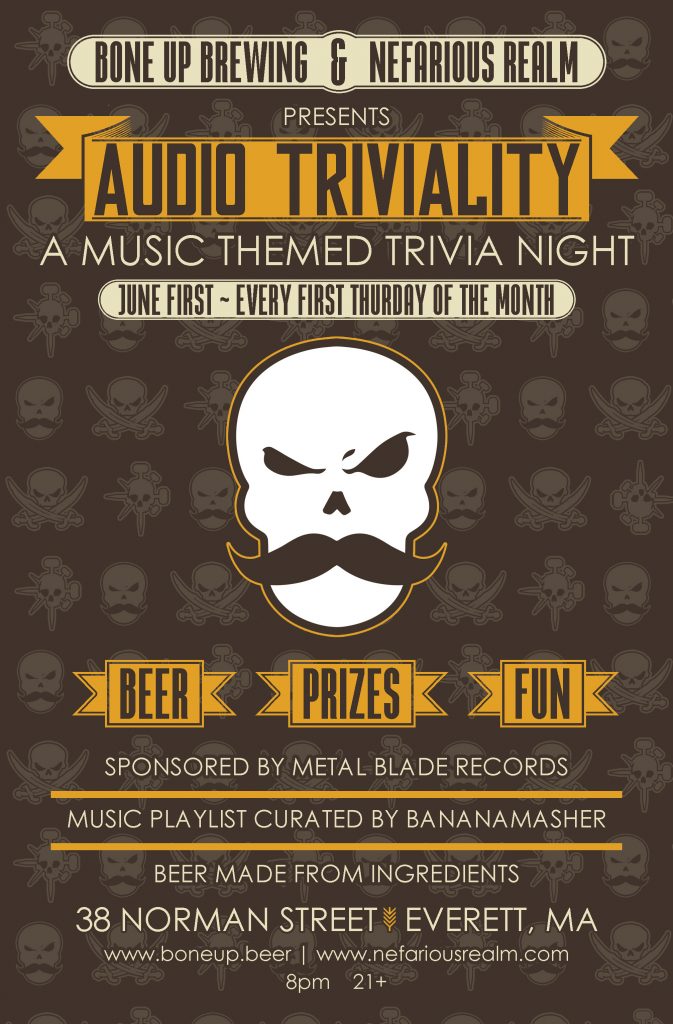 You read the headline correctly! We are hosting a special music-themed trivia night every month, on the first Thursday of every month to be specific, at Bone Up Brewing in Everett, MA. The first installment happens tomorrow, June 1st, starting at 8pm. Join us for cask 'n' pizza shenanigans, genre-spanning trivia, and did we mention beer? Yes you have to be 21+ to enter.
Metal Blade Records has most graciously sponsored the event and has offered a bundle of music and other swag for prizes, including the new album from DragonForce Reaching Into Infinity and God Dethroned's The World Ablaze – both released just days ago. Bone Up will be throwing in some items into the prize pool as well.
A special playlist is being curated for the evening, featuring many songs from the Metal Blade catalog – some new, old favorites, b-sides, and other tunes! Be sure to pay attention, you may even get hints to the questions if you listen closely. Maybe not, who's to say?
Bone Up Brewing is a newer Boston-area brewery, currently celebrating their one year anniversary. A husband and wife team that loves brewing and drinking delicious beer. Their cozy brewery is a perfect place to relax and enjoy a fresh brew or two, or several. Their "Wasted Life" IPA is my favorite, a hazy deep gold, bolstered by the slightest touch of burnished copper; it's a color that evokes memories of the most exquisite cream sodas. Though I am excited about the anniversary session offering, "The Joybringer", a Belgian Tripel weighing in at 8.6% ABV.
Have fun, play trivia, drink beer, eat pizza, win stuff… Don't worry, you don't have to go in that order.
Here's a little rundown in the world of Metal Blade Records:
For their seventh studio album, DragonForce as landed on the Billboard charts with Reaching Into Infinity. They Will be touring North America in July
On

June 16th

, Swedish death metallers Entrails will release their new album, World Inferno – which I think is one of the best death metal albums of the year thus far.
Brooklyn's post-black metal experimentalists Tombs will release their fourth full-length, The Grand Annihilation, on June 16th.
Goatwhore will release their anticipated Vengeful Ascension full-length worldwide on June 23rd. Catch them on tour through June with Anciients. Then with Venom Inc., Toxic Holocaust, & The Convalescence come September.

Vancouver stoner/sludge 

metal

veterans Bison are making a devastating return with their brand-new album, You Are Not The Ocean You Are The Patient, dropping on June 23rd.
Musical and heavy

metal

alchemists Candiria will be hopping onto Warped Tour in later June.
On

June 30th

,

Metal

Blade

 will release three new re-issues of Riot's classic catalog: Inishmore, Shine On and Sons Of Society on CD and LP.
On

July 14th

, Bloodclot – featuring true hardcore pioneers John Joseph (Cro-Mags), Todd Youth (Warzone, Murphy's Law), Joey Castillo (ex-Queens of the Stone Age, Blast!), Nick Oliveri (ex-Queens of the Stone Age, Dwarves) – will release their new album, Up In Arms.
To celebrate the ten-year anniversary of their classic album, Colors, Between the Buried and Me will embark upon a special tour this September/October, which will see the band perform the record in its entirety! Joining them will be The Contortionist, Polyphia, Toothgrinder.
Swedish epic doom metallers Below released their new album, Upon A Pale Horse, this past May.
Psycho Las Vegas 2017, Set to take place from August 18th through August 20th, will see the legendary King Diamond perform the Abigail album in its entirety as a USA-exclusive show for 2017.
Arizona thrashers Sacred Reich are celebrating the 30th anniversary of their classic album, Ignorance. Starting in July the band will begin a world tour to commemorate this milestone.