Double Dare to Hit Comic Con This Summer
---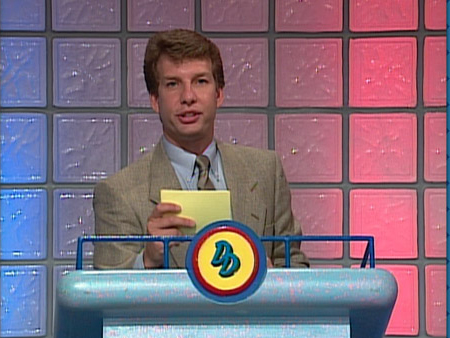 Nickelodeon will be celebrating the 30th anniversary of Double Dare by bringing back original host Marc Summers for the first time in 16 years for a special live edition of the iconic game show on Friday, July 22th, during Comic-Con 2016. The game show celebrates its 30th anniversary on October 6th, having originally aired from 1986-1993.
A special episode of the slime-filled show will be streamed live on The Splat's Facebook beginning at 9:30 p.m. (PT), wherein fans will be able to watch the red and blue teams compete in rounds of trivia and a slew of classic physical challenges from Double Dares past: Down the Hatch, the Wringer, the Human Hamster Wheel, and the legendary Double Dare Nose.
Headquartered at its 1,800 square-foot booth on the convention floor, Nickelodeon will pay tribute to some of its most memorable shows and popular characters with activations, games, panels, talent signings and interactive design elements featuring: Legends of the Hidden Temple, Hey Arnold!, Rugrats, Double Dare, Aaahh!!! Real Monsters, CatDog, Rocko's Modern Life, and Invader Zim, among many others.
Nickelodeon and The Splat, the network's programming block dedicated to Nick's legendary library of hits from the '90s and 2000s, are blasting open the vaults for a slime-tastic, immersive experience at Comic-Con International: San Diego 2016.
To accompany the live event, Teen Nick will begin airing a Double Dare best of lineup which will also be hosted by Summers. It will include highlights from every version of Double Dare, including the original. Family Double Dare, and Double Dare 2000. These begin airing on July 25th. Said Marc Summers:
"Thirty years later, people still stop me on the street every day and tell me playing Double Dare is the one thing they wish they could have done growing up."
Additionally, in celebration of the August 11th, 25-year anniversary of the launch of the network's original animated series (The Ren & Stimpy Show, Rugrats and Doug), The Splat will feature brand-new commentary and behind-the-scenes information from the series' voice talent and creators, along with themed programming and encore airings of these animated series every night during the month of August.
[embedyt] http://www.youtube.com/watch?v=Z85TF10StNU[/embedyt]