---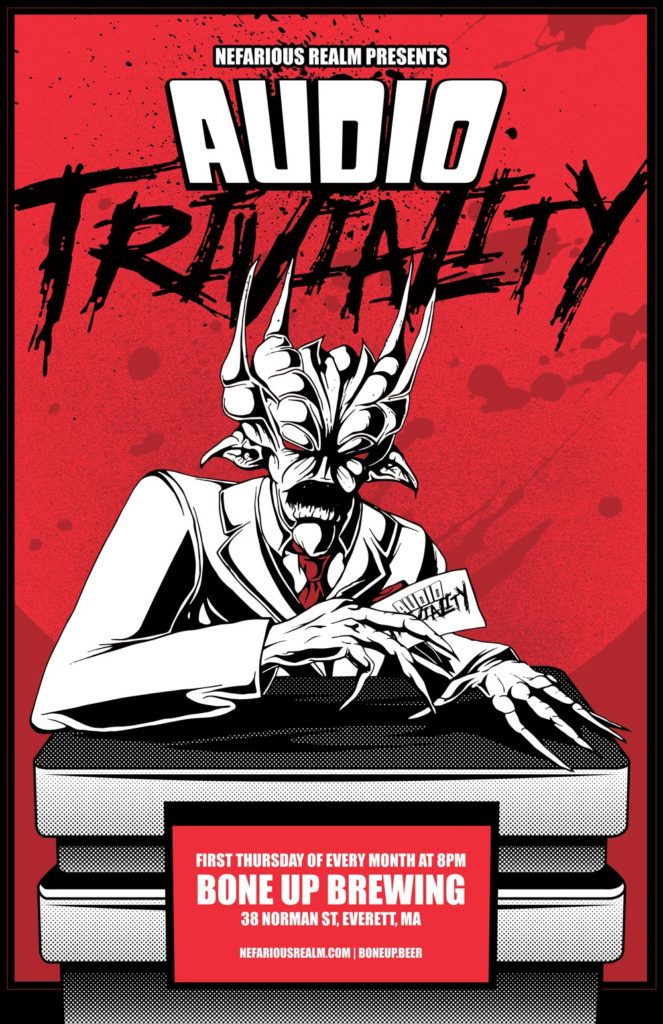 Join us at Bone Up Brewing in Everett, MA on the first Thursday of every month for a night of beer and music-themed trivia with a specially curated playlist of tunes.
What is Meatloaf's real name?
Do you know the title of the sole studio album by Minor Threat?
What year was …In Justice for All released?
The questions and the music span mainstream favorites to niche rock, metal, and punk genres spanning decades.
Starts at 8pm and you have to be 21+ to enter.
Where: Bone Up Brewing – 38 Norman Street, Everett, MA
When: First Thursday of every month, 8pm.
Listen to the specially curated playlists below!
2017 – June – Theme: Metal Blade Records
2017 – July – Theme: America
2017 – August – Theme: Summer Heat
2017 – September – Theme: The 90s (1990-1999)
2017 – October – Theme: Halloween
2017 – November – Theme: The 80s (1980-1989)
2017 – December – Theme: Satan Claws
2018 – January – Theme: Beer
2018 – February – Theme: Love
2018 – March – Theme: Bad Music
2018 – April – Theme: The 2000s (2000-2009)
2018 – May – Theme: Northeast US
2018 – June – Theme: 2018 New Music (Thus Far)
2018 – July – Theme: Planes, Trains, and Automobiles
2018 – August – Theme: Bad Music II
2018 – September – Theme: Back to School
2018 – October – Theme: Halloween II
2018 – November – Theme: Food
2018 – December – Theme: Satan Claws II
2019 – January – Theme: Sex, Drugs, & Rock 'n' Roll
2019 – February – Theme: Animals
2019 – March – Theme: Beer II
2019 – April – Theme: Film & Television
2019 – May – Theme: Bad Music III
2019 – June – Theme: Death Metal History
2019 – July – Theme: Where In The World
2019 – August – Theme: Colors
2019 – September – Theme: Anatomy
2019 – October – Theme: Halloween III
2019 – November – Theme: 90's Punk & Hardcore
2019 – December – Theme: Satan Claws III